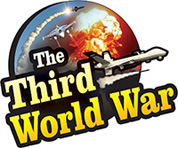 Washington/Tehran: US aircraft carrier USS Abraham Lincoln entered the Middle East along with its fleet. The United States had announced the deployment to be a warning to Iran. However, claiming that the presence of this warship does not make any difference, Iran said it has the ability to sink this warship. Amid the threats received from Iran, the United States has warned the passenger aeroplanes flying in the Middle East region to exhibit caution.
Last week, President Donald Trump ordered USS Abraham Lincoln and its fleet to proceed to the international waters, near the Iranian marine limits in the Middle East. Following these orders, it is said that the fleet of warships will reach the Middle East by the end of this month. But USS Abraham Lincoln and four other destroyers have reached the Persian Gulf, two weeks before the expected date. Two of these warships transited in front of the Iranian patrol boats, through the Strait of Hormuz and the United States announced that this deployment of the warships has been reassuring, for the Gulf allies.
Mohammad Saleh Jokar, the deputy for parliamentary affairs of the elite Revolutionary Guards, claimed that the deployment of USS Lincoln and the other warships had made no difference for Iran. Iran has short-range missiles to sink the US warships deployed in the Persian Gulf. Jokar said that these missiles would very easily target the US warships. The IRGC deputy chief said that the situation has become grim for the United States and the hefty price of the war with Iran will not be affordable for the United States.
Iran, even in the past, had warned to attack the US warships. Iran had also warned of blocking the oil exports of US allies in the Gulf, passing through the Strait of Hormuz. The United States seems to have taken serious note of the Iranian warning. As per the US officials, missiles on the Iranian patrol boats can target the oil tankers.
Meanwhile, against the background of the threats issued by Iran daily, the United States has warned the local and the international airline companies, flying in the Gulf, to be cautious. The United States said that if a conflict is sparked, Iran can make a mistake in identifying passenger airliners, in which case the safety of the aircraft may be compromised. Therefore, the United States has advised passenger airlines, to proactively choose an alternate route.