Moscow: 'Russia has initiated war exercises in the Mediterranean Sea in view of the air and marine safety. These are dangerous exercises and the ships and aircrafts of other countries should keep themselves away from it,' warned the Russian defence ministry. Russia had despatched a naval fleet to the Mediterranean Sea to help Syria to counter the possible attacks on Idlib by the United States and allies. Therefore, it is obvious that the Russian defence ministry's warning is aimed at the deployment of the United States and allies in the region.
The Russian war exercises were initiated on Saturday. Nearly, 25 warships and 30 fighter jets and one bomber from Russia are participating in these exercises. Two days ago, Russia had made the announcement of these war exercises, which were to be conducted near the Syrian shoreline. Russia had clarified that these exercises are for the security of the Assad regime in Syria.
The Russian defence ministry, on Saturday, justified the war exercises in the Mediterranean Sea. Dimitri Peskov, the spokesman for the Russian defence ministry said that these exercises were necessary before initiating action against the terrorists in Idlib in Syria. 'Idlib has become a base for terrorists. We have attempted to resolve this issue through negotiations. But as this was not possible, we will have to use force to evict the terrorists,' said Peskov.
Peskov predicted a possibility of the situation in Idlib deteriorating further in the near future as a result of this action. Syrian Defence Minister, Walid Al-Muallem had endorsed the Russian deployment and war exercises in the Mediterranean Sea. The US warships and submarines are already deployed in the Mediterranean Sea. Moreover, the British and French warships are assisting the US Navy . The British airbase in Cyprus also has been reactivated for the Syrian action.
Meanwhile, the Syrian military and Russia have initiated preparations for a decisive attack on the rebels in Idlib in Syria. On the other hand, the United States has clearly indicated that the US military and intelligence have prepared a 'target list' in Syria and the action may be initiated at any moment. It is being said that the attacks by the United States are linked with the action that the Syrian military and Russia intend to start in Idlib.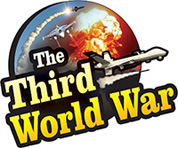 It is clear that the United States' attacks on Syria are inevitable in case Russia does not withdraw the Idlib action. Both countries are not willing to step down from their positions and hence, there is a possibility of a fierce conflict being sparked between the two superpowers at any time in Syria.