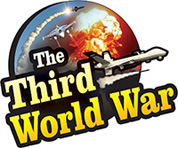 Geneva: It has been observed in an online survey that the youth of the world feel 'There could be a nuclear attack in any corner of the world', 'The third world war will be sparked during our lifetime' 'Soon we will witness an all destructive war'. This survey conducted by the international voluntary organisation the 'International Committed for the Red Cross' (ICRC), thousands of youth expressed these fears. As per the organisation, these were the observations in the survey, conducted across 16 countries.
ICRC, based in Switzerland, conducted this massive survey, in the last year. This survey was conducted by this organisation, contacting youth from 16 countries, online, through the telephone and even personal interviews, between 1st June and 7th October. Red Cross informed that the survey was held in the peaceful countries like the United States, Russia, the United Kingdom, Israel, Ukraine and Switzerland along with the conflict-torn countries like Syria and Afghanistan.
The chief of the organisation, Peter Maurer, said that youth in the age group of 20 to 35 were interviewed during this survey. A minimum of 16,000 youth recorded their opinion in the survey. The question posed was 'Will nuclear weapons be used, if a war is sparked in this decade?' 54% of the youth have replied in the affirmative. As per the youth, there will be a nuclear attack, in the next ten years.
It is not a long wait for the third world war. The youth said that the third world war will be sparked during their lifetime. As per the youth from the relatively peaceful countries, like the United Kingdom and Switzerland, this war or conflict can have an effect on the younger generations in the western countries.
ICRC chief Maurer expressed concern over the answer given by the youth to a question, other than the nuclear attack and third world war. 41% of the youth supported inordinate torture of the enemy soldiers, captured during the war. As per these youth, in an exceptional situation, these soldiers have to be tortured.
But 85% of the youth from Syria, expressed an opinion that there should be humane treatment meted out to the enemy soldiers and they should be allowed to talk to their families. Whereas, 70% of the Syrian youth opposed torturing the captured enemy soldiers. 60% of the Syrian youth claimed that the conflict in their country would end in the next five years.
Strong political differences and violent conflicts, going on around the world, have started affecting the mass. The concerned survey shows that people from stable countries are also being affected by these factors — a reason for the majority of youth to feel that the world will face a destructive war soon.