Over 250 females have been brutally killed by 'ISIS' in Iraq's second largest city – Mosul for refusing to become sex-slaves. The families of these women who repelled this 'sex-jihad' too were mercilessly butchered along.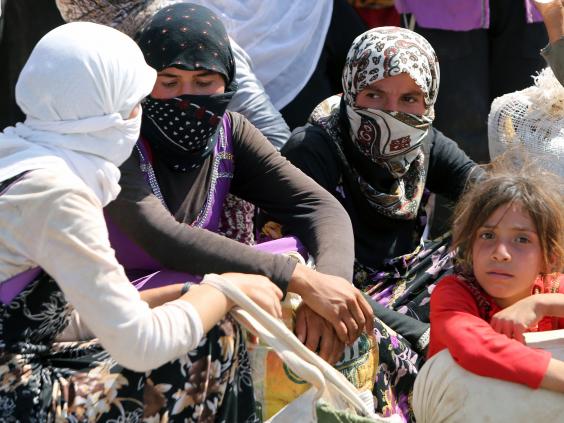 Amid this, the US Air Force has claimed to have blown up the ISIS's weapons storage facility in the town of Qayyarah, about 60 kms from Mosul with the help of 'B-52' bomber planes.
Saeed Mamuzini spokesman of 'Kurdistan Democratic Party' functional in Northern Iraq, has given insights regarding this horrifying incident of killing of women to a London-based Kurdish news agency, 'AhlulBayt'. After facing a major setback in Syria, the ISIS has again started to create turmoil in Iraq. From past two and half years, 'ISIS' has started targeting females in the conquered region of Mosul. Lately, 'ISIS' had abducted nearly 250 women which also comprised of young girls. The victims were ordered to become sex-slaves or were forced to marry ISIS terrorists. Refused, the enraged terrorists executed the 250 females. Another Kurdish official in Iraq confirmed that women are subjected to barbarous torture by 'ISIS' terrorists. 'ISIS' have also barred women from going out alone in Mosul and imposed stringent restrictions of being fully covered in public. An official mentioned that human rights are being widely violated in ISIS-held territories, as women as considered a commodity by them.
Last year in August, 19 women faced similar fate when they were slaughtered for rejecting to submit to sexual demands of ISIS fighters in Mosul. Upto 500 Yazidi women and girls were kidnapped by 'ISIS' when they stormed Sinjar region in Northern Iraq during August 2014. An insider has made a disturbing revelation that these women were sexually abused and tormented for nearly two years. People all over the world have demonstrated strong discontent with regards to the sufferings of women at hands of 'ISIS'.
'ISIS' has started dominating Mosul from past two years. Recently, Iraqi army had vehemently attacked ISIS in Mosul with help of Kurdish rebels. It was rumoured that 'ISIS' terrorists had fled from Mosul city. But barely one week later, 'ISIS' took control of Mosul and forced Iraqi army to flee. Following this conquer, 'ISIS' took control of a crucial dam and threatened to discontinue water supply in Iraq.
Meanwhile, The US President, Barack Obama has stated that to free Mosul from custody of 'ISIS' additional US forces and military material is being deployed to Iraq. War tanks and military vehicles are also sent by the US to help Iraqi military win in combat against 'ISIS'. The news of US 'B-52' bomber planes are making quite a noise in Iraq. US Army had positioned these bomber planes in Qatar till recent times.