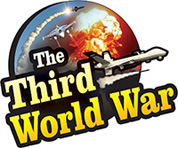 Washington: Europe faces the most significant threat from Iran despite being a supporter of the Iranian nuclear program, the United States has warned. Brian Hook, U.S. Special Representative for Iran, appealed, 'The European countries are within the range of the secretly manufactured Iranian missiles. Therefore, if the European countries want to safeguard themselves against Iran's attacks, they should support the US sanctions against Iran.'
Hook recently held a meeting in the US Airforce hangar. The arms confiscated by the militaries of the United States and the Gulf allies were on display at the time. They contained Iranian-developed missiles along with rifles, grenades, drones, rockets and other arms and ammunition. Iran consigned a part of the arsenal for the Houthi rebels in Yemen. However, the Saudi destroyers deployed in the Yemen marine region confiscated the consignment. It was in view of the shipment that Hook warned the European countries.
Hook showed the Iranian make missile to the media saying, 'Iran has violated the sanctions imposed by the United States regarding the manufacture of missiles which the US will expose before the world.' Hook alleged that Iran was trying to bring instability to the region by supplying the missiles to Houthi rebels in Yemen, the Hezbollah terrorists in Lebanon and others terror outfits as well. He said that it proved Iran posed a threat for the Middle Eastern countries. Nevertheless, Iran is not just a threat to the Middle East but is equally dangerous for the European countries as well, Hook has claimed.
Hook said, 'The missiles supplied by Iran to the terrorists can directly hit Europe. Iran has violated the international rules by manufacturing and supplying the missiles to terrorists. The Iranian missiles have threatened the regional security, and therefore, the European countries through the EU should support the US sanctions against Iran. It is the only way Iran can be stopped.'
The United States had imposed sanctions against the Iranian nuclear and missile programs. It had also accused Iran of violating the international rules by implementing its nuclear and missile program. The United States had appealed to the European countries to support the US sanctions against Iran.
However, the European countries had decided to remain firm on the Iran nuclear deal, criticising the US sanctions. Also, the United States proved the threat to the European countries by exposing the confiscated arms arsenal smuggled by Iran.