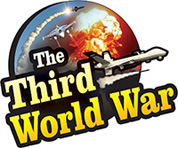 Tehran: Iran who has been announcing destruction of Israel since last few days, has now warned of splitting the US and Saudi Arabia into pieces along with Israel. While saying that plan for the partitioning of US, Israel and Saudi Arabia is ready, Iran's Revolutionary Guard's Deputy Chief, General Hussein Salami claimed that Iran's enemy countries have become helpless.
Iran is ready to partition its enemy countries for which plans are also ready. Iran has drawn its sword and is ready for Jihad, declared General Salami. Saudi knows that Saudi Arabia's kingdom will not last for longer time and every night they go through deadly dreams of change in power. Due to this they are having sleepless nights and daily they await their death. Saudi is flabbergasted claimed General Salami.
'The US is also facing challenges on international scale, and the USS has lost its influence. The US has lost, even before challenging Iran, boasted Iran's Senior Military Officer. Israel is using pressure tactics against Iran and Iran is also doing the same. Despite of many efforts, US, Israel and Saudi Arabia has become helpless remarked General Salami.
Iran has called for War Practice against America, Israel and America's friendly countries in the Middle East and Iran will not withdraw, said Iran's Senior Military Officer. Iran has taken birth for Jihad and not for the world said General Salami. Which means Iran's plan is not limited to the Middle East, but Iran wishes to beat World Superpowers, expressed General Salami. It can be seen that Israel's media has taken this threat from Iran, very seriously.