Beijing : Almost over 1000 soldiers held protests in front of the headquarters of China's Defense Ministry, to express their discontent against the increased corruption and job cuts of soldiers by China's 'People's Liberation Army'. Retired soldiers of China's army as well as currently serving soldiers participated in this protest. Such type of anti-government protests in China, where the Communist Party has monocracy, is attracting attention of the entire world.
These soldiers thronged and staged sit-ins, in front of the Defense Ministry's Bayi Headquarters in the capital city Beijing on Tuesday. The international media was kept away from these protesters. Representatives of news agencies were denied permission to go near the protestors. The police also kept strict vigilance and kept the protesting soldiers confined to one side.
Police squad in civil attire was also posted there at the time. The social media also was enforced with censorship to ensure that the news of protests do not get publicity. The commute of pedestrians on the pavements where soldiers were protesting, was also stopped. China took precautions to ensure that the news of the protests by soldiers do not spread. A few international news agencies approached China's Defense Ministry to enquire about the issue. However the Defense Ministry has avoided commenting over this incident.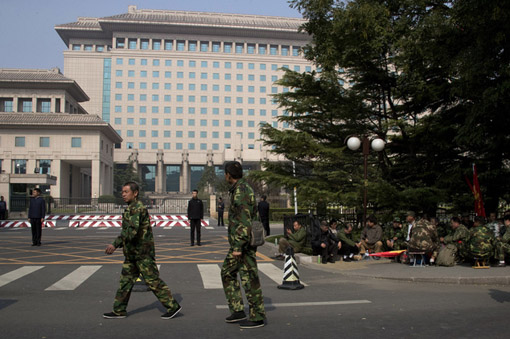 As per the information given by two retired soldiers, these protests are being held against the government of China. The protestors are accusing the President Xi Jinping's government of neglecting the pension of the retired soldiers.
These soldiers are also showing displeasure about the fact that the retired soldiers are not getting government jobs, despite serving for so many years in the Chinese army.
In some soldiers' cases, more than a decade has passed after their retirement. An analyst in China claimed that the retired soldiers are demanding to be absorbed in government services.
Last year, President Jinping had announced the modernization of the Chinese Army. To modernize China's military for the conflict in 'South and East China sea', China has accepted the policy of procurement and manufacture of aircraft carrier warships, missile intercepting system and stealth aircrafts. However, to reduce the financial burden on the Chinese military, President Jinping announced to lay-off almost 3 Lakh soldiers. The soldiers have started demonstrations against this decision only by the government.
China's Defense Minister Chang Wanquan was to discuss some important issues with the representatives of the friendly nations in the headquarters. Against the backdrop of the annual Security Summit 'Shangri-La' organised in Singapore, China had planned this military meeting. However, before it could commence, the retired as well as presently serving soldiers have started demonstrations in front of the headquarters.
Meanwhile President Jinping is consistently appealing that the Chinese Military remain loyal to the Communist Party government. Under such circumstances, the presently serving soldiers, by participating in these demonstrations along with the retired soldiers, have shocked China.