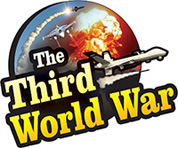 Washington: "It won't be apt to discuss about whether the US will take military action on Iran or not. But, I can tell you this, the US won't let their murderous regime acquire nuclear weapons; you can bank on it.", said the US president, Donald Trump as he clarified his take on Iran bluntly.
Angela Merkel, the Chancellor of Germany, is currently on a visit to the United States and President Trump elucidated on the take of his presidency regarding the US-Iran nuclear deal in a joint press conference. 'Go wherever in the Gulf, you'll find Iran to be the root of the problem. Such a murderous regime of Iran shouldn't be permitted to acquire nuclear weapons. The US will not allow Iran anywhere near them', said President Trump.
Iran must stop propagandising dangerous nuclear weapons and supporting terrorists, demanded President Trump. He also criticised Iran and said that the Iranian regime is currently engaged in these actions only. 'Iran is causing instability in the Gulf countries and this has also raged violence, bloodshed and chaos in the region', Trump informed that he had talks about this with the German Chancellor, Angela Merkel.
Iran must not benefit from the ongoing conflict against radical organisations such as 'IS' in Syria. So that this does not occur, the countries in this region must provide financial and military support for the conflict against 'IS'. Some of the nations amongst these are economically stable, if only requisite funds are provided, it'll prove to be of great help to the cause, claimed President Trump.
Even though he did not openly mention it, President Trump seems to be pointing at Qatar while making this appeal. So far, Qatar had always adopted an impartial stance in the Syrian conflict. But, due to its stance, Qatar is unwilling to go against Iran, such was the complaint of the Arab nations- Saudi Arabia, the United Arab Emirates, Bahrain and Egypt. Hence, these nations had collectively decided to impose restrictions and blockade on Qatar. Now, the US President seems to be warning Qatar in the same regard.