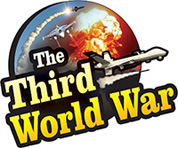 Washington: "If Iran poses a threat to American interests in the Middle East, the aircraft carrier 'USS Abraham Lincoln' will be deployed in the Strait of Hormuz. I am authorized to do it," Vice Admiral Jim Malloy of US Naval forces Central Command (CENTCOM) warned Iran. Yadollah Javani, a senior Commander of Iran's Revolutionary Guard Corps, has claimed that the US would not dare to wage war against Iran, to which the senior commander of US Naval Forces gave a robust response.
The aircraft carrier USS Abraham Lincoln and accompanying ships have passed through the Suez Canal and have arrived in the Red Sea. "The warship, currently at the western coast of Saudi Arabia will be entering in the Persian Gulf within few hours," declared the commander of US naval forces in the Middle East. As the ship has entered the Middle East, it will be operated by the Bahrain-based commander overseeing US naval forces in the Middle East, Vice Admiral Jim Malloy.
While speaking to the international media on the deployment of USS Lincoln, Malloy said that the US has been observing the military activities of Iran closely. Furthermore, he said quoting the intelligence agencies that the Iranian missiles were a threat to the region's security. Iran has spread a new network of its missiles in the Middle East which can be dangerous and can cause instability in the region," cautioned Malloy.
"If I need to bring 'USS Lincoln' inside the Hormuz strait of Iran owing to a threat from Iran, I will do so. I am not restricted in any way, I am not challenged in any way, to operate her anywhere in the Middle East," Malloy warned Iran. By announcing the deployment of the aircraft carrier in the maritime region of Iran, the US has delivered a clear message of action against Iran.
Meanwhile, a few hours ago, four nuclear-capable US 'B-52′ bombers have landed at the airport in Qatar. The deployment of these bombers at a distance of a few minutes from the Hormuz Strait was a warning to Iran. Now, after declaring the dispatch of USS Abraham Lincoln in the Hormuz Strait, the US has made Iran aware of the subsequent consequences.