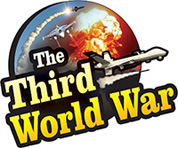 Tehran: The Iranian military has warned, if the United States fires even a single bullet, in the direction of Iran, a conflict will flareup, which will engulf all the interests of the United States and its partners. Brigadier General Abolfazl Shekarchi has issued this warning. This vitriolic reaction received from Iran is regarding the US President's claim, in an interview to a news agency, that it can finish Iran.
The US President, while talking to a news agency, explained the reasoning behind his last-minute decision to withdraw the orders to attack Iran. Iran shot down a US drone.If the United States had attacked Iran following that, 150 Iranians would have died in the attack. Killing 150 Iranians for an unmanned drone,would not have been rational and hence I withdrew the decision to attack Iran. President Trump clearly warned during the interview that Iran should not misinterpret his action. President Trump warned Iran that the United States does not want a war, but asked Iran not to forget that the United States can finish Iran.
President Trump has sternly warned this country that the United States will not tolerate any such Iranian misadventure. Iran also has reacted in the matter and has given a vitriolic reaction to the US President. Iranian military spokesman, Brigadier General Abolfazl Shekarchi threatened that even if a single bullet fired in the direction of Iran, Iran would destroy all the interests of the United States and its allies. The spokesman of the official news agency of Iran, Abbas Mousavi, warned that Iran would retaliate against an attack with full military might.
Whatever the United States has to say, Iran will not tolerate violation of its airspace. Mousavi warned that every such violation will face the same retaliation. Meanwhile, Iran is claiming that it has made all the preparations for a conflict with the United States and Iran will deliver a major blow to the United States. Iran has issued threats in the past, that if Iran is attacked, the Iran affiliated organisations will launch crushing attacks on the US interests in Syria, Iraq and Lebanon.
Along with this, Iran has also threatened that it can attack the US soldiers deployed in Iraq and Syria, at any time and the US warships in the Persian Gulf and other regions in the Gulf, cannot escape an Iranian attack. The threat issued by Iran that a single bullet in the direction of Iran will flare up into war seems to be pointing to this Iranian war preparedness.