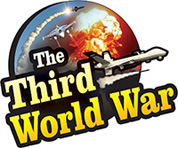 Tehran: Russian President Vladmir Putin has alleged that terrorists in Syria's Idlib have organised to trigger and spark off the situation using various kinds of provocations, including the use of chemical weapons. Putin made this claim ahead of his meeting in the Turkish capital of Tehran to be held along with Iranian President Hassan Rouhani and Turkish President Recep Erdogan.
Russia, Iran and Turkey had taken the initiative to introduce a ceasefire in Syria last year. In regards to this issue, three meetings have taken place amongst Putin, Rouhani and Erdogan and at the same time there have been five independent meetings conducted amongst the representatives of Russia, Iran and Turkey. Such an emergency summit was conducted on Friday as well to discuss about Idlib.
Against the backdrop of the differences created with the US, Turkey has taken firm steps towards strengthening relationships with Russia and Iran. However, the activities of the Russian and Iranian militaries in Idlib is a matter of concern for Turkey which has led it to oppose the two countries on this front and support the US and its allies. Only a few days ago, Turkey had warned Russia over its military actions in Idlib. Thus, the summit being held in Turkey becomes significant.