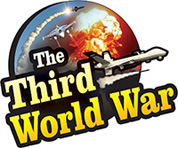 Jerusalem/Damascus: The Israeli military destroyed the Syrian air defence system, in a fierce attack on Monday night. Two soldiers from the Syrian army were killed in the attack. The Syrian military had opened fire on an Israeli aircraft patrolling in Golan. The Israeli military said that this attack was in retaliation of the previous Syrian action. It is the third Israeli attack on Syria in the last ten days.
A month ago, US President Donald Trump had declared Golan Hills to be sovereign territory of Israel. Following the announcement, Israel had predicted an attack from Syria, Iran and Hezbollah on Golan region. Israel increased the security in the Golan Hills region, after that. Monday morning, an Israeli aircraft, patrolling in this area, was shot at from the Quneitra border area, in Syria. Also, the Israeli military informed one military vehicle was damaged in this attack.
Following this, Israeli fighter jets attacked the Syrian military post in the Quneitra region. The Israeli military announced that they were successful in destroying air defence system of the Syrian military. Further, the Syrian military confirmed the death of two people, including a senior official in the attack.
Israeli Prime Minister Benjamin Netanyahu warned Syrian military saying, "Israeli policies are clear. We do not tolerate anyone attacking us. Some time back, the Syrian military tried to attack an Israeli aircraft. But they could not succeed in the attack. Israel will retaliate strongly against such attacks."
At the beginning of this month, Israel carried out two airstrikes near the Syrian capital of Damascus. A week ago, the Syrian military and the government mouthpiece had accused Israel of carrying out an airstrike on a Syrian airport. The Syrian military said that Israel undertook a similar activity, four days ago.
Israel has not reacted to the accusations levelled by the Syrian military. However, the Israeli military has given its reaction over the Monday night attack. Meanwhile, Israel has asserted that Iran and other Iran affiliated terrorist organisations in hiding, in the Golan region would initiate assaults on Israel, taking advantage of the instability in Syria to which Israel would give a fitting reply. Besides, to avert such attacks Israel would target these terrorist organisations, the Israeli military officials declared.