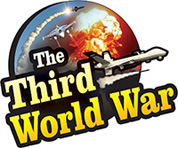 Damascus: The media has claimed that the USS Truman, which entered the Mediterranean Sea about two weeks ago, was chased by the destroyers of the Russian navy. The US navy has confirmed this news and suspiciously avoided any further details, saying that this is a routine affair. The videos and photographs of the incident have been released on the internet. This incident of the Russian chase is important in view of the imminent break-out of war between United States and Russia in Syria or anywhere in the European region.
US President, Donald Trump had despatched the aircraft carrier, USS Truman for special tasks to be performed in Syria. USS Truman has been assigned the task of assisting the United States' and allies' warships and submarines already present in the Mediterranean Sea. The US navy had said that USS Truman, equipped with 90 fighter jets and helicopters, will play an important role in the Syrian campaign. US navy had published the information that the fighter jets aboard the warship have already made sorties in the Syrian airspace. Against this background, the Russian destroyer's chase and the publishing of the related videos and pictures is surprising. It is said that the Russian destroyer, Yaroslav Mudry along with associated destroyers chased the US aircraft carrier last week. The British news channel, 'ITV' carried the news and the video of the incident. The report claimed that a cat and mouse game was going on between the Russian and United States' warships.
There have been reports of one Russian fighter jet and one helicopter crashing on a Syrian airbase. Russia had stated that the reason for these crashes was a technical snag. However, the entry of the US aircraft carrier in the region, crash of the Russian fighter jet and helicopter and the subsequent chase of the US aircraft carrier by Russian destroyers, give curious indications.