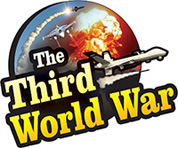 London: The activities of reckless Russia and lack of respect towards international laws could spark the third world war, warned Nick Carter, the British Defence Chief. Sir Carter, in his article written on the Remembrance Day of the Second world war, mentioned China and Iran along with Russia, while issuing this warning. Two months ago, during an event, the British officials had created a stir with a statement 'The war is already on'.
Sir Carter pointed to the warlike situation created on the international level saying '"The threats are diversifying, proliferating and intensifying rapidly. The global playing field is characterised by constant confrontation, with a return to a former era of great power competition. Ambitious states such as Russia, China and Iran are asserting themselves in ways that challenge our security, stability and prosperity." He also pointed to the newly developed weapon systems while talking about the threat to world peace.
The British Defence Chief claimed that fuel, money, cyberattacks and false propaganda are the new weapons proving more effective and have succeeded in fuelling the discontent. Sir Carter said that Russia is a country successfully implementing the campaign for false propaganda and accused Russia of using it in the African and Latin American continents.
British Defence Chief Nick Carter warned, "I am not suggesting that our opponents want to go to war in the traditional definition of the term, but reckless behaviour and the lack of respect for international law relating to these new types of 'weapons' risks escalation that could easily lead to inadvertent miscalculation." At this time, he mentioned the incident of the killing of Archduke Franz Ferdinand, which triggered the first world war. Sir Carter claimed that the resultant war was a miscalculation, on the part of the European leaders.
Carter, during an event in September, had warned that the form of the battlefield on the international level is consistently changing and how it is used at every level will be decisive in the war. At the same time, he had warned that space and the cyber sector would be the new battlefields of the future.