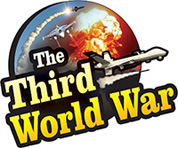 Cairo: The rebels fighting the forces of Prime Minister Sarraj, to take over power in Libya have imposed no-fly-zone over capital Tripoli. This announcement of the Libyan rebels is being taken very seriously. The US and Italian drones, patrolling in the Tripoli airspace, had suddenly disappeared. The Syrian rebels declared the no-fly-zone after that.
General Khalifa Haftar who rebelled against the Libyan government to establish an independent military organisation, 'Libyan National Army' (LNA), declared no-fly-zone over Tripoli. Ahmed Al-Mesmari, the LNA spokesman, gave the information regarding this. Mesmari clarified 'No airplane, helicopter or drone, can fly in the Tripoli airspace, without the permission of General Khalifa Haftar.'
This will result in a shutdown of the international airport and airline services until the LNA announcement is in effect. But the neglected airport at Mitiga in the capital will be operational. The LNA spokesman informed that the freight movement for humanitarian aid would continue from this airport. The announcement points to a severe conflict between the Sarraj government and the Haftar rebels, for control over Tripoli, in the near future.
Two days ago, US and Italian drones patrolled in the Tripoli airspace. But in the next few hours, these drones vanished from the radars of the respective militaries. The Sarraj government in Libya did not give any reaction regarding the drones. It is suspected that Turkey, supporting the Libyan government, is responsible for the action.
Before this, Turkey had shot down a drone, belonging to the United Arab Emirates (UAE), with the laser installed in Libya. Therefore, even this time, it is being suspected that Turkey shot down the US and Italian drones. But the Libyan government has confessed that the US and Italian drones were shot down erroneously by the Libyan military. After this incident, the Libyan rebels declared a no-fly-zone over Tripoli. Therefore, the Libyan government-linked media are claiming that the United States also supports the decision.
Two major factions were formed in Libya in the year 2014. The Sarraj government enjoying support from Turkey and the United Nations controls the western part of Libya, including capital Tripoli. Whereas, the rebels supported by Russia and UAE have gained control over the eastern part of Libya. But since the last few months, the rebels have launched a massive offensive to take control over Tripoli and this has intensified the conflict in Libya.