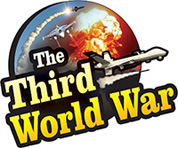 Damascus: The international airport in the Syrian capital, Damascus, came under air attacks on Saturday night. It is claimed that along with the arms depots, one Iranian aircraft loaded with arms and ammunition that had just landed, were destroyed in these attacks. The Syrian government news agency has alleged that these were Israeli attacks. Meanwhile, Israel had recently warned of intensifying the attacks on the Iranian locations in Syria.
The Damascus airport was rocked by explosions on Saturday night. The initial release by the Syrian military said that the missile attacks were around the airport. But following the upload of photographs and videos of the attacks on the social media, the Syrian military accepted that some depots on the international airport were destroyed as well. But the Syrian military refused to give any further information.
It has been exposed that the depots of the United Nations and DHL have been destroyed in the attacks. Other than this, it is claimed that the Iranian Boeing aircraft, which had landed only a few hours ago, suffered major damages in the missile attacks. It is therefore apparent that the arms and ammunition that were to be supplied to the Hezbollah terrorists have been destroyed in the attacks.
The Syrian government has held Israel directly responsible for the attacks. The Syrian military claimed that some of the Israeli missiles were successfully neutralised. The Israeli military, as expected, has not reacted to the allegations of the Syrian military. But Israel had recently warned that the attacks on Iranian locations in Syria will continue.
Despite the warning from Israel, Iran has not withdrawn from Syria. Following the endorsement of the Iranian military deployment by the Assad regime, Israel had announced targeting the Iranian locations in every corner of the country. As per the information published by the Israeli military, they have carried out a minimum of 200 attacks on the Iranian locations in Syria.
Meanwhile, Israel has complained that some of the Iranian military locations have been provided with an air defence shield by Russia. This is creating obstacles in carrying out attacks on those locations, said Israel. However, Israel seems to be determined to turn its threat of attacking Iranian targets in Syria into reality.