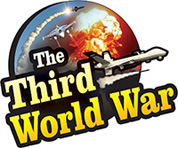 Damascus: Israel carried out powerful missile strikes in Syria on Monday after midnight. As per the information published by the Syrian media, Israel launched a missile attack on the airport in Damascus, the Syrian capital. A pro-Assad website has claimed that these missiles were launched to target an Iranian military transport aircraft, present at the Damascus airport. Israel has refused to comment on the attack.
Different reports have been published by the media connected with the Assad regime. The government news agency, 'Sana' said that two missiles landed near the international airport. Hezbollah have an arms depot at this place and the Israeli missile attack was to target this depot, said the report by Sana.
The Israeli missiles hit the arms depot but there was no big explosion, reported the news agency. The news agency also claimed that these Israeli attacks are in retaliation to the Syrian military action against the rebels and the terrorists in the south. The pro-Assad news agency blamed Israel of supporting the terrorists with such attacks.
Another government website reported that the Israeli missiles landed directly on the Damascus airport. 'Israel had launched these missiles to target the Iranian heavy military transport aircraft deployed at the airport. The attacks occurred while the arms were being offloaded from the aircraft,' claimed the website. But it did not give any details of the damages.
Israeli military has also refused to react to the news report. Last week, 52 pro-Iran soldiers had been killed in the attacks in the Deir ez-Zor region near the Iran-Iraq border. The Syrian media had claimed that these attacks were carried out by the US fighter jets. But two days later, a United States official claimed that these attacks were carried out by Israel. Israel had refused to comment on this too.
Meanwhile, Israel had already warned that it will take military action to stop the increasing Iranian military movements in Syria. It had also warned that it will not only attack the Iranian locations near the Israel border, but also those in far-flung areas.