Damascus: All the rebels have retreated from eastern Aleppo and as a result, for the first time in the last four years the complete city of Aleppo is under the control of the Syrian army. As the Syrian conflict turned in favour of the Assad regime, it appears that the confidence of the Syrian army has grown.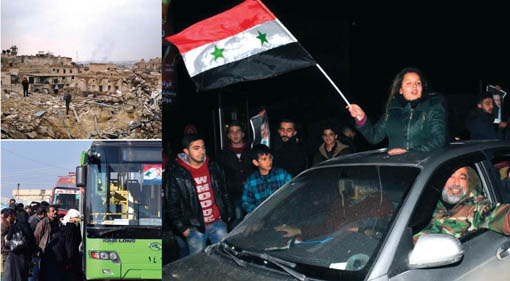 The Syrian army announced that the city of Aleppo has been liberated from terrorism and terrorists. The last group of rebels and their families retreated from eastern Aleppo until late Thursday. The rebel fighters retreated under the special ceasefire negotiations held with the Syrian army. As per the negotiations, the army agreed that they would not strike an attack on the Syrian rebels. While the groups supporting Turkey and Saudi Arabia confessed to not cause any further destruction in Aleppo.
The Syrian President Bashar al-Assad said that the victory in Aleppo was not just limited to Syria, but it also belonged to Russia and Iran who had successfully contributed against terrorism in Syria The Syrian President while expressing his pleasure over the victory said that this victory in Aleppo was a major blow to the nations who were using terrorism against the civilians in Syria.
The Syrian army termed this victory in Aleppo as an important milestone in the fight against terrorism. The army also said that this has been a tremendous blow to the groups inciting terrorists against the Assad regime in Syria.
The human rights organisations providing aid in Aleppo have reported to have moved the injured citizens from the city to secure places. The citizens that had moved out of Aleppo after accepting the Syrian Army's appeal, have also been migrated to other locations. So far 34 thousand citizens have been migrated from Aleppo. Whereas in this conflict that started one and half years back, nearly 75 thousand citizens have fled eastern Aleppo to the Syrian army controlled part of western Aleppo.
In the last year, the Syrian army had begun to regress the conflict in Aleppo. The Syrian army had started retreating due to the 'IS' attacks. It was said to have caused a setback to the Assad regime. However, the entire picture changed after Russia stepped into the conflict in Aleppo. Due to the successful attacks launched by Russian fighter planes in Aleppo on terrorist and rebel hideouts, the tables turned in favour of the Syrian army.