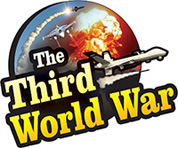 Moscow: The United States has deployed two gigantic aircraft carriers, USS Abraham Lincoln and USS John Stennis in the Mediterranean Sea. Jon Huntsman, the US Ambassador to Russia, warned Russia 'This deployment is nothing but 200 thousand tonnes of war strategy. This is a part of the advanced war strategy, and there is no need to say anything more.'
Syria has leased its Tartous port to Russia, for 49 years. Therefore, Tartous has become a critical base for Russia and can play a decisive role in future conflicts, in Syria. Currently, the United States and Russia are confronting each other over domination in Syria, and the Syrian decision on Tartous becomes significant in this context. The United States seems to have taken a serious note of the matter.
For this, the United States has increased the deployment of its warships close to the Syrian marine limits. Two days ago, two enormous US aircraft carriers, USS Lincoln and USS Stennis, entered the Mediterranean Sea, carrying helicopters squadrons. This is the first deployment of two US aircraft carriers in the Mediterranean Sea, since 2016.
These warships carried out war exercises in the Mediterranean Sea. US Ambassador to Russia, Jon Huntsman, was present of the USS Lincoln, during the exercises. While talking to a US news agency, Huntsman clarified '200 thousand tonnes of war strategy is there in the Mediterranean Sea. Now it is only a matter of confidently resolving the issues, pending for years.' the US Ambassador refused to reveal any further details.
Before this, these two warships had been deployed simultaneously, in 2016, given the heightened tension, between the United States and Russia. The Mediterranean Sea is a marine region connecting Europe, Gulf and African countries. The countries Greece and Italy on the West, Turkey, Syria, Lebanon and Israel on the East and Egypt, Libya and Algiers in the South,line the region. The tankers carrying oil from the Gulf countries to Europe travel through this region. Therefore, this region is strategically significant sector.
Meanwhile, in the last few days, Russia has started military deployment near the borders of NATO member countries, in eastern Europe. Against this background, the European media are claiming that these two warships have been deployed in the Mediterranean Sea, to issue a warning to Russia. Iran infuriated by the sanctions has threatened to retaliate against the United States and allies. It has, at the same time, announced that it would continue to export oil. A website connected with the Israeli intelligence claimed that the United States has deployed these gigantic warships, given the Iranian threat, to counter any act of aggression from Iran.