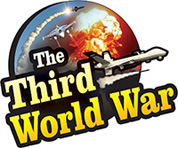 Washington: President Trump warned 'Turkey will have to withdraw from the Syrian conflict. Turkish President Erdogan should not take any foolish decisions to act ruthlessly against the Kurds, realising this fact. Otherwise, you will become a laughing stock and the history will refer to you as a devil'. The US President seems to have lambasted the Turkish President, at a time when the US Vice President is just reaching Turkey.
President Trump has written a letter addressed to the Turkish President. The US channel, Fox News, published the letter. In the letter, President Trump has expressed annoyance over the Turkish action in the Syrian border area and has reiterated the threat of destroying the Turkish economy.
At the same time, President Trump has suggested that Turkey should not take ruthless action against the Syrian Kurds, who helped the United States during the campaign against IS. Turkey will have to stop this action at some point in time. The Kurdish commanders are willing to talk to Turkey. Therefore, this issue should be resolved through discussions. President Trump warned Erdogan that otherwise, he would be known as the leader to ruined Turkey.
But, Turkish President Erdogan clarified that he will not be responding positively to President Trump's letter. At the same time, Erdogan also clarified that the action against the Syrian Kurds would continue.