Washington/Kabul: The US shocked the whole world by experimenting with the 10,000 kg bomb, the 'GBU-43/B Massive Ordinance Air blast Bomb (MOAB)' aka 'Mother of all Bombs' on Afghanistan. The bomb was dropped near the Pakistan-Afghanistan border and according to the released information, 36 terrorists were killed due to it. But the tremors of this bomb were also felt in Pakistan along with Afghanistan. The US President Donald Trump praised the US military for using the bomb.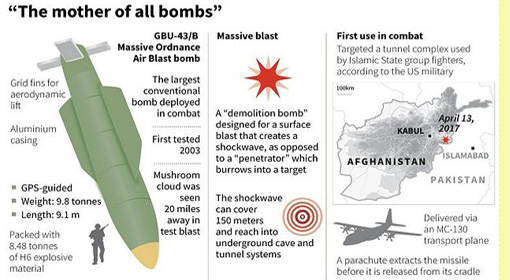 Afghanistan's official spokesperson claims that there were no casualties or injured civilians. The spokesperson also claimed that this bomb killed the 'IS' terrorists and destroyed their base. It is believed that the 'IS' terrorists were using the caves here as their hideouts which were also said to be their base for the region. Due to increased influence of terrorists in the Nangarhar Province, about 3,000 families had to be moved from here. The US claims that such a massive bomb was used here due to the rise in terrorist influence in this region.
Afghan President Ashraf Ghani supported the attack by saying that it was a part of a joint operation between Afghanistan and the US. Whereas the former President Hamid Karzai has denounced the attack. By launching such massive bomb attacks, the US has used Afghanistan as a weapons testing laboratory, criticised Karzai. He also reprimanded that such an attack can never be a part of the war against terrorism.
The US President has praised his military for launching the bomb attack. In a press conference he clearly stated that he was proud of the US military for yet another successful operation. The US House of Representatives have welcomed this attack on the 'IS'. It claimed that the Trump administration had given a befitting warning to the 'IS' by launching this attack. The US Army General in Afghanistan, John Nicholson said that the attack was launched at an apt time. Meanwhile, it appears that the US has warned Pakistan by launching this attack that was close to the Pakistani border. While on one hand the news of this bomb attack was published, the US claims of Pakistan continually being a safe haven for the terrorists was also gaining popularity on the other. The former US Ambassador to the UN and Afghanistan, Zalmay Khalilzad shocked Pakistan when he demanded that the Trump administration should strike the terrorist bases in Pakistan.
Khalilzad said that the US should not tolerate the safe harbor of terrorists in Pakistan. He further expressed his views by saying that until the terrorists in Afghanistan have a safe haven in Pakistan, the question of terrorism will never be resolved. Pakistan and Taliban cooperation is hence a very serious threat. Therefore, the US must put a check on the terrorist bases in Pakistan.