Washington : Just two days back, two of the Russian bomber planes made a direct approach near the border of Alaska. The US Air Force however, urgently deployed fighter planes and planes equipped with 'AWAC' technology to chase away the Russian bombers. This incident created tension in the region for some time, as per information from the US sources .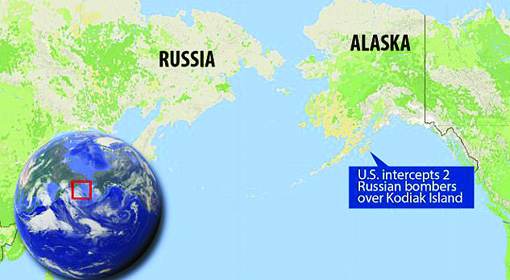 As informed by the US military, 'TU-95' bomber planes from the Russian Air Force were hovering over on Monday near the region of Alaska. The US military sources however clarified that these two bomber planes hovered only over the International airspace; they did not enter the Alaskan airspace. These bomber planes were spotted at a distance of about 100 miles away from 'Kodiak Island' towards the south of Alaska, as per information provided by the Pentagon Spokesperson, Commander Gary Ross.
The Russian bomber planes were seen hovering near the US coast for almost 12 minutes. For reasons of precaution, and to chase away the Russian planes, the US Air Force deployed 'F-22 Raptor' stealth fighter planes. At the same time, a plane 'E-3' equipped with radar technology was also dispatched. The US fighter planes safely completed the task of chasing away the Russian bomber planes. During this entire incident, there had been no communication between the US and the Russian planes. However, according to the US officials, the Russian planes without playing fast and loose, backed away from there.
Earlier too, the Russian fighter and bomber planes had approached near the US region of Alaska. The US fighter planes then too, had undertaken the task of sending the Russian planes back. A few days back, however, the US Secretary of State Rex Tillerson paid a visit to President Vladimir Putin while on his tour to Russia. After this visit, the Presidents of both US and Russia had agreed to the fact that the relations between the two nations were at all-time low. It is said, that ever since the US missile attack on Syria the relations between the two countries have been inceasingly strained. In this context, the incident occurring at the border of the Alaskan airspace seems to have assumed greater seriousness.