Budapest. Date: The outpour of refugees is turning the European nations into a battlefield, and has also put Europe's freedom at stake, said Viktor Orbán, the Prime Minister of Hungary. He has also claimed that the clauses held by the 'Soros University' and the other international NGO are secondary compared to the upsurge of the refugees. A few days back, the EU had warned Hungary on the matter of refugees and the 'Soros University'. Though Prime Minister Orbán has declared that Hungary will not retreat on both the points.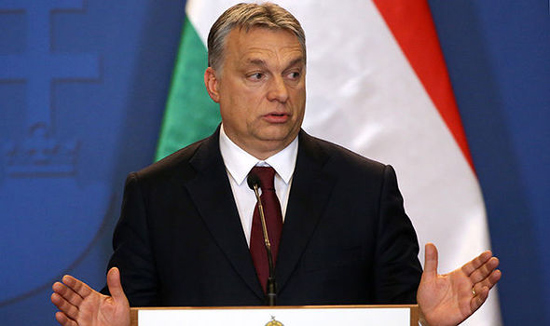 Since the past two years, Hungary has consistently taken an aggressive stand on the issue of the refugees. The Government of Hungary has been highlighting their protest by undertaking varied operations like raising fence on border, military operations, 'Container camps' for refugees, referendum, 'Stop Brussels' campaign against the European Union along with rejecting 'Quota' implied by the EU. Even after the affliction caused in the nation due to the clause of 'Soros University', Prime Minister Orbán has firmly stated of not withdrawing on the subject of refugees.
In a conference held on Sunday,Prime Minister Orbán conveyed his stand on both the topics, that of 'Soros University' and the refugees. International politics has become a battleground. Europe's liberation and redemption has been at stake and refugees are its main cause, said the Prime Minister of Hungary. There lies a question today whether the psychological state, culture, loyalty and the social structure from the ancestral times will be preserved in Europe's identity ahead? Orbán further exclaimed.
Hungary will certainly take initiatives to hold Europe's foundation. The Prime Minister of Hungary strongly indicated that they do not want a parallel society. He also conveyed an aggressive stance on the 'Soros University' dispute.
The Prime Minister of Hungary further claimed that their struggle with the external powers is for the protection of their own dominion. He even accused US's billionaire businessman George Soros of supporting the illegal influx of refugees. The Hungarian government and parliament is for welfare of the people and it will not bend before foreign associations, Orbán thereafter affirmed.
Earlier this month, Hungary had announced 'Stop Brussels' campaign in order to resolve against policies inflicted by EU that seemed to be threatening the nation's freedom. It is apparent that the laws made to oppose 'Soros University', US and the European Union have been highly pressurizing Hungary.