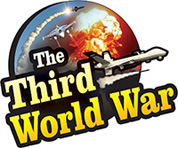 Baghdad: Iran losing its nerve due to the US declaration of additional deployment in the Gulf, has increased its activities in Iraq. Iranian Foreign Minister Jawad Zarif visited Iran on Sunday. Iranian Foreign Minister Jawad Zarif announced 'Iran is ready for the economic and military war declared against it. Iran will fight the war with all its strength.' The Iraqi Foreign Minister also criticised the US deployment in the Gulf and declared that Iraq would stand with Iran.
Iranian Foreign Minister Zarif embarked on an emergency visit to Iraq and met Foreign Minister Mohamed Ali Alhakim. Both the Foreign Ministers criticised the activities of the United States in the Persian Gulf, during the press conference, held after the meeting. Zarif accused that the US deployment of warships and bombers in the Gulf region is a threat to the regional security. At the same time, the Iranian Foreign Minister targeted the economic sanctions imposed by the United States against Iran. Foreign Minister Zarif said that Iran will not kneel, in front of these sanctions imposed by the United States.
Iraqi Foreign Minister Alhakim claimed 'Iraq is fundamentally opposed to the economic sanctions imposed by the United States, against Iran. In this difficult situation, Iraq is firmly standing behind Iran. At the same time, these economic sanctions will not affect the Iranian economy.'
Meanwhile, the US defence headquarters Pentagon has claimed that Iran was behind the saboteur attack on four oil tankers, off the United Arab Emirates coast, two weeks ago. Rear Admiral Michael Gilday announced, in front of the press, that the Iranian Revolutionary Guards, the organisation declared as a terrorist outfit by the United States, at the beginning of this month, was behind the attack.
Two of the four oil tankers under attack were from Saudi Arabia. Therefore, the Pentagon has accused Iran of attacking the interests of the allies of the United States. At the same time, the security agencies in the United Arab Emirates also have held Iran responsible for the attack. While this dispute is aggravating, the US President, defying the US Congress, has decided to supply weapon systems worth $8.1 billion, to Saudi Arabia, Jordan and the United Arab Emirates. President Trump said that this decision was taken given the Increasing Iranian threat.