London : "Before the conclusion of the UK's Brexit negotiations with the European Union, Scotland must be given a fair chance to decide its fate," said 'Nicola Sturgeon', the Scottish First Minister, demanding a new referendum. Sturgeon has called for a referendum to be held at the end of 2018 or the beginning of 2019. The UK Parliament will announce the ultimate verdict on this matter. Sturgeon's proposition seems to have created new challenges and insecurities for the Brexit deal.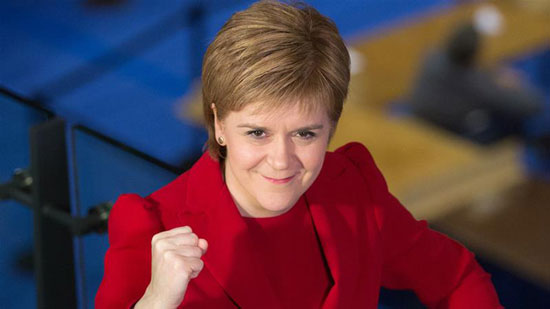 In the upcoming days, the UK Prime Minister, 'Theresa May', was going to announce an authoritative decision on Brexit. However, before the Prime Minister's declaration, Scotland's demand for a referendum came up, creating a stir. Even last year after the Brexit polls, Scottish First Minister 'Sturgeon' had hinted for a referendum. She also added that this referendum is possible only if the UK Government values Scotland's significance in the Brexit discussion.
Although, the UK had approved to consider Scotland's rights during the discussions held over the last few months, but had not given any formal assurance. This led to a constant hinting from Scotland for a new referendum. Sturgeon's declaration on Monday cleared the ambiguity on this matter.
"Right now, Scotland stands at a hugely important crossroads. In the future, we will attempt to find a compromise with the UK Government to set out our plan. At the same time, I will take the steps necessary to make sure that Scotland will have a choice at the end of this process. A choice whether to follow the UK to a hard Brexit, or to become an independent country, able to secure a real partnership of equals with the rest of the UK and our own relationship with Europe", said Sturgeon, putting forth her stance for a new referendum.
Next week, the authority of the Scottish Parliament will be sought on this matter, stated the First Minister. Sturgeon also stressed on Scotland's right to choose its own future. She also accused the UK Government of not moving even an inch in the pursuit of compromise and agreement after the Brexit discussion.
During the Brexit polls, Scottish citizens inclined towards staying in the European Union by a vote of 62%, while the UK as a whole voted out of the European Union by 52%. After the Brexit results, First Minister 'Sturgeon' had tried to sought an independent discussion with the European Union. However, European Union did not pay much heed to it, defeating Scotland's efforts.
UK Prime Minister 'Theresa May' expressed her concern stating that Scotland's declaration of second referendum will drag it to indecisiveness and divide. She also claimed that most Scottish citizens will not opt for a new referendum.