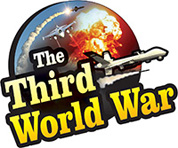 Islamabad: Pakistani Foreign Minister, Mahmood Shah Qureshi claimed that he had information from reliable sources 'India is preparing for an attack on Pakistan. India will carry out this attack between 16th and 20th April, and the Indian defence forces have even identified targets for this attack. These targets include Pakistani military installations too.' The Pakistani Foreign Minister clarified that this information has been shared with the permanent members, the United States, Russia, China, France and the United Kingdom, of the UN Security Council.
Since the last few weeks, fears were being expressed in Pakistan that India will not stop short of carrying out more attacks in Pakistan. Prime Minister, Imran Khan had warned that the Indian threat is still not over. Now, Foreign Minister Qureshi called a press conference to claim that India is planning to attack 16th and 20th April. Qureshi warned India that this is a major cause for concern and there can only be discussions between two nuclear countries and the disputes can be resolved only through discussions. Qureshi is trying to threaten that the war could escalate into a nuclear war, in different words.
Qureshi accused in the press conference that India had made preparations for this attack, well in advance. A few days ago, a meeting was held between the Indian Defence Chiefs and Prime Minister, Narendra Modi. The Defence Chiefs informed Prime Minister Modi that the preparations have been completed, to teach a lesson to Pakistan.
The Defence Chiefs clarified that they were waiting only for a clearance from the political leadership, to go ahead with the action against Pakistan. At this point, Prime Minister Modi reminded that the political leadership had already rested all the controls and decisions, in the hands of the defence forces. Pakistani Foreign Minister was referring to these developments in the press conference.
Indian as well as the international media have already carried reports regarding this. But India has not contradicted these reports. Shah Mahmood Qureshi inferred that this amounts to acceptance of these reports by India. The Pakistan Foreign Secretary has shared the information of these possible attacks with the permanent members, the United States, Russia, China, France and the United Kingdom, of the UN Security Council. If peace has to be maintained in South Asia, the international community cannot be a mute spectator, said Qureshi and demanded that the International community will have to intervene to stop India.
The Pakistani Foreign Minister complained that the international community ignored the fact that India trespassed the Pakistani airspace on 26th February. Pakistan Foreign Minister also made an indirect allegation that the United States and western powers are supporting India, saying that Pakistan is fully aware of the ulterior motives behind these Indian actions. The Indian High-Commissioner in Pakistan has been summoned in this matter.