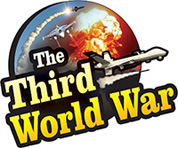 Washington: Christian Pastor Frank Amedia claimed that the US President Donald Trump's decisions were part of a divine plan for Jesus Christ's return. Trump announced the establishment of a new Space Force. Also, Trump declared the decision to relocate the US embassy to Jerusalem. Referring to these decisions, Amedia asserted that it was all in preparation of the second coming of the Christ.
Previously, Pastor Amedia had claimed of the Deep State and evil powers the world over were joining hands against President Trump. The Pastor had appealed to the US citizens to support President Trump, with the power of their prayers, to save him. In a year-end video message, Pastor Amedia clearly states that the decisions President Trump has taken are a clear indication of the second coming of Jesus Christ. Furthermore, he referred to Trump's decision to establish a space force for exemplification.
Pastor Amedia stated, 'The US Space Force was part of God's plan. It is God's wish that the US Space Force becomes the most powerful in the world which would help bring peace.' Amedia expressed a strong possibility of a space war saying that the Space Force would not only protect the United States and Israel but was a vantage point to fight a war'.
At the same time, the pastor emphasised on the decisions of President Trump being consistent with the divine plan. 'There are growing demands for a two-state solution with Israel and Palestine being divided into two countries. However, it would result in a division of Jerusalem which is not acceptable to God. Nevertheless, Trump's decision to move the US embassy to Jerusalem was a major victory for God's plan,' he said.
Pastor Amedia firmly believes that Trump's decisions are linked to Christ's return. At the time, President Trump's Advisor and also his son-in-law, Jared Kushner should not present any plans to resolve the Israel-Palestine dilemma by going against God's plan, warned Pastor Amedia.
He said 'President Trump takes decisions not only in the interest of the United States but also as per the God's plan. Moreover, I am unsure if President Trump was aware that he is working as per this plan, but his decisions are indeed in line with it.