7th June 2016, Geneva (PTI): Prime Minister Narendra Modi today successfully completed a bilateral discussion with Swiss President Johann Schneider-Ammann. Post this discussion Switzerland has declared its support for India's membership to the Nuclear Supplies Group (NSG). At the same time president Ammann has also declared Switzerland's full support to India for tracking the trail of black money stashed in Swiss banks.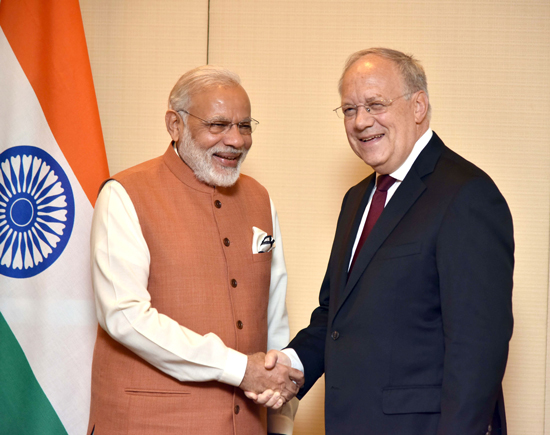 PM Narendra Modi's visit to Switzerland was the third stop in his five nation foreign tour to garner support for India's membership to the Nuclear Supplies Group. India has started an aggressive political campaign to gain the membership to the elite Nuclear Supplies Group (NSG) by getting support from all the member nations. On this background, post the successful meeting between the two leaders, President Johann Schneider-Ammann declared Switzerland's full support to India's effort to become a member of NSG in a joint press conference. Prime Minister Modi expressed gratitude and thanked President Ammann for his gesture.
Many a times in the past the issue of stashing of black money from India to Switzerland had come to the fore, there was no cooperation on these matters from Switzerland. But now post the discussion between the PM Modi and President Ammann they jointly declared that, countering the menace of black money and tax evasion would now be a 'priority' to both the countries. It is also being said that the details of huge sums of money transferred illegally to Swiss banks along with the details of tax evaders will now be made available to concerned Indian agencies.
During this visit PM Modi also appealed to the Switzerland industries to invest in India, as India currently is one of the fastest growing economies. He stated that in the current period the Swiss industries would find golden opportunities and huge potential to invest in some of the key sectors in India like the Indian Railways, smart city construction and basic infrastructure projects. PM Modi also expressed his satisfaction on the trade cooperation between the two countries. Switzerland is India's 5th top business partner across Europe. It was also announced that the free trade discussion between India and European Free Trade Association (EFTA) will also commence very soon.
PM Modi would be visiting the United States of America (USA) after Switzerland, this is PM Modi's second visit to the US and as per media reports there are huge preparations going on in US to welcome the Indian Prime Minister with pomp. During this visit the main point of discussion between India and the US would be on security and cooperation between the two countries.