London/Moscow: At Present, the British army merely has just about one 'fighting unit' left and a predominant and powerful army like that of Russia's can completely destroy it in half a day, warns the British army think tank. In the last few years, due to continual defence cuts the competency of the British army has reduced significantly. If it were to engage in a war against a foe like Russia, the British forces will prove no match, warns the British think tank report. Since the report has been submitted by a think tank that is a part of the British army itself, it has caused a sensation in Britain.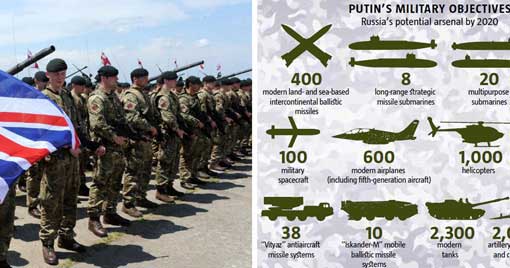 The 'Centre for Historical Analysis and Conflict Research' has presented a new report. The British army currently has a force of only 83 thousand armed soldiers. Based on the incessant cuts in defence expenditure in the past seven years, the number of soldiers have dropped by 20 thousand. The think tank claims that this is its lowest number since the 'Nepolean war' that was fought in the 19th century.
In the First World War, British army had 90 deployable divisions. During the Cold War, this number was reduced to 9 and currently the British army has just one 'deployable division', states the report while expressing its displeasure. Since 2003, Britain has not maintained a completely independent army division outside the country. The 'Centre for Historical Analysis and Conflict Research' has enforced in its report that in this day and age, Britain cannot deploy any more than one battalion consisting of 10 thousand soldiers outside the country.
Taking into account the British Army's competency, it is said that the Russian army has about seven and a half lakh active troops while it has over 20 lakh in its 'reserved' forces. This would mean that even though the British army does not face any immediate threat of a direct attack, if it were to undergo such a situation, it would completely fall apart, says the report. Current and former British officials have also corroborated over the information stated in the report.