Beijing: In the race between India and China to gain influence over Nepal, the later seems to be on the forefront. Trading goods worth 28 lakh dollars are in transit to reach Nepal's Kathmandu from China controlled Tibet. Nepal is entirely dependent on India for transport of all its supplies. China has projected itself as an alternative source to Nepal by excluding India. Therefore, India's vested interests in Nepal may be challenged.
Two months back, Nepal's new Prime Minister Pushpa Kamal Dahal, also known as 'Prachanda' was on a visit to India. During his previous tenure as the Prime Minister, 'Prachanda' had adopted a pro-China and anti- India stance. However, this time after resuming as the Prime Minister, 'Prachanda' has clearly indicated to adopt a stand which is more aligned with India. But before he could accept the responsibility as the Prime Minister, the protests initiated by the Madhesi in Nepal had had an adverse effect on the India- Nepal relations. The Madhesi people, residing in the area of Nepal adjoining the Indian borderline, had raised an intense agitation to protest against the denial of their rights in the newly adopted Nepalese constitution.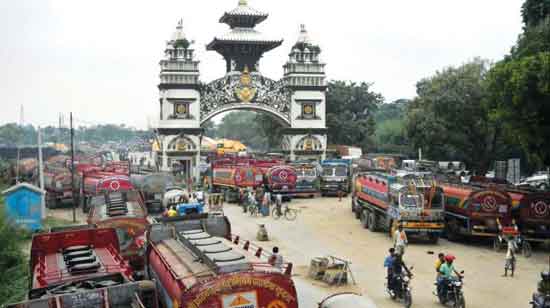 Due to these protests, the transport of goods from India to Nepal had virtually stopped. The supply of fuel and other essential commodities were prohibited. However, the prevailing Nepali government, had accused India of using Madhesi agitation as an excuse to stop the transport of supplies to Nepal and also of backing the Madhesis.

Meanwhile, the Prime Minister KP Oli Sharma had initiated talks with China regarding the transport of supplies. China took advantage of the tensions developed between India and Nepal and made aggressive preparations to provide an alternate trading route for Nepal. After completing the preparations, a supply of goods worth 28 lakh dollars was shipped from China via a Tibetan route to Kathmandu on Saturday. The supplies were transported by freight trains from Guangdong province in China to Tibet. This rail route is about 5,200 kms long. The supplies will then be loaded onto trucks in Tibet and transported to Nepal. The distance form Tibet to Kathmandu is approximately 870 kms.

Experts claim that China is aspiring to capture the entire Nepalese market via this transportation land route. China's focus is to reduce Nepal's dependency on India and to gain its influence over Nepal rather than earning trading profits. By establishing a new trade route with Nepal, China seems to have taken a big step forward towards accomplishing its motive.