Budapest, Dt. 6th (News agency) – Hungary would be taking a referendum on the 2nd of October 2016 against the European Union decision of mandatory migrant quota. Analysis predicts that this would be the next challenge, post the 'Brexit'. The EU had instructed its member countries on accepting a specific quota of migrants.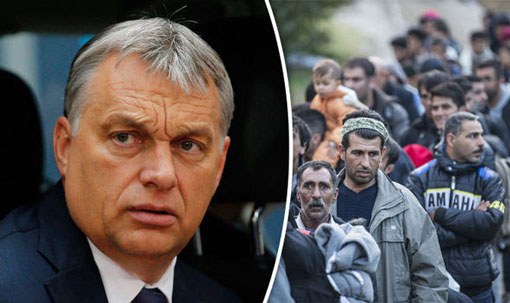 The European Union has decided to penalize member countries that refuse to accept the policy of migrant quotas. The EU has also threatened the member countries of the consequence of losing their membership to the Union, if they refuse entry to the migrants. After the referendum by the Britishers, this decision of the EU has been viewed with resentment across Europe. The Hungarian media has made claims that on 2nd of October, the Hungarian citizens will not only vote against the migrant quota, but will also have a poll on whether Hungary should continue to be a member of the EU.
The Hungarian President Mr. Janos Ader has announced a referendum. He has further asked the Hungarian residents whether they would like the mandatory settlement of non-Hungarian citizens in Hungary, without the consent of the parliament. The Hungarian citizens have to reply in a 'Yes' or 'No'. Earlier the Hungarian Prime Minister Mr. Viktor Orban had expressed his denial on this matter. Many Hungarian leaders have claimed that Hungarian folks are expressing their displeasure on the EU's decision.
Hungary's foreign affairs minister, Mr. Szijjarto has accused the EU regarding the migrant issue in one of his interview. He stated that some elite leaders in the EU have no idea about the expectations of the European people and thus they are burdening countries with decisions like the migrant quota policy. Mr.Szijjarto has offended the EU by stating that owing to such decisions of the EU, the people of Britain have opted to exit the EU.
The British Prime Minister Mr.David Cameron had also indicted the EU. He said that Britain was forced to take the decision of exiting the EU, as Britain was being burdened with migrant quotas.Mr.Cameron has urged the EU to have a rethink on its decision.He had said that the EU has threatened Britain post Brexit, that it would no longer be able to enjoy the perks given by the EU.
The Hungarian citizen's aversion for migrants is very well known, thus it is most probable that the Hungarians will vote against the migrants. It seems like the referendum decision taken by Hungary, will be followed by many more European countries and thus lead to unrest amongst the European Union.