Moscow/Washington,Dt.7 (News agency) –The largest ever International Maritime Warfare exercise 'RIMPAC 2016' organized by US Navy's Pacific Fleet has begun from 30thJune. 27 countries, a total of 45 ships, 5 submarines, more than 200 aircraft and 25,000 personnel took part in the exercise 'RIMPAC 2016'. Russia dispatched a modern specialized ship to spy on the exercise. The spy ship is outside of the 12-nautical mile limit of U.S. territorial waters but is within America's 200-nautical-mile Exclusive Economic Zone.
"A Russian Navy Bal'zam-class,"auxiliary general intelligence ship recently arrived in international waters off Hawaii where exercise Rim of the Pacific is taking place," U.S. Pacific Fleet spokesman Lt. Clint Ramsden told USNI News this week.
"The ship's presence has not affected the conduct of the exercise and we've taken all precautions necessary to protect our critical information."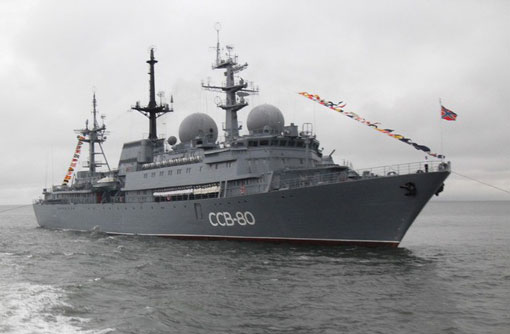 Russian spy ship presence is unexpected and unusual, claim war experts. While it wasn't unusual at all during the Cold War for Russian spy ships to linger off the coast of the U.S. to suck up signalsintelligence information or monitor exercises like RIMPAC, the Russians have been lax in such surveillance until recently.
Following the 2014 annexation of 'Crimea',the Russia Navy has been operated more aggressively returning to levels not seen since the Cold War.The ship's presence off Hawaii sends a message about Russia's capabilities in response to U.S. operations near its airspace and waters.
This incident follows the increasing number of US and Russia warships confrontations which have taken place in the Baltic and Mediterranean Sea in past few months.In April, Russian fighter planes tried to challenge a US warship in the Baltic Sea. In June, a Russian warship confronted a US warship in the Mediterranean Sea. US Officials have warned of increased Russian warship and submarines presence in the Arctic Sea near the North Pole as well as in the Atlantic Ocean.