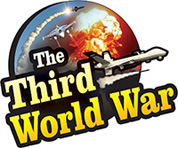 Beijing/Taipei: The tension between China and Taiwan over the sovereignty issue has reached the stage of a war. China has threatened that if Taiwan does not accept the One China Policy and merge into China, the air attacks are inevitable. China has released a video with this threat to Taiwan. Taiwan has retaliated in the same language, saying that the Taiwanese military is prepared to protect the country's democracy.
Recently, new year was celebrated in China. Against this background, China has released the video threat on social media as a new year gift for Taiwan. The video is titled 'My War Eagles Fly Around Formosa'; Formosa is the old name for Taiwan in China, and the video starts with a pilot singing that song. The song describes the relation between China and Taiwan, which says that Taiwan is a treasure and the Chinese war eagles are hovering over it. The video warns that these war eagles will keep hovering over Taiwan until the time Taiwan merges into China.
While saying that the Taiwanese people are like brothers to us, the J-20 Stealth fighter jets and H-6 bomber planes are shown to be flying within the Taiwanese airspace. The Chinese analysts are claiming that this is a threat saying Taiwan should merge into China in time or the Chinese fighter jets and bombers will attack Taiwan.
Taiwan replied to the Chinese threat in the same language, within the next few hours. The video published on the Taiwan military's social page warned that the Taiwanese defence system was ready to retaliate against the intruding Chinese fighter jets. Taiwan reprimanded China warning that the Taiwanese missile launchers along with the air force and navy are prepared to counter against the Chinese fighter jets.
Taiwan declared that it might have been late in wishing China for the New Year, but will not delay retaliation against the enemy attack, even by a moment. The Taiwanese military is ready to maintain peace and stability in the Taiwan Strait. This Taiwanese reply has made China more restless and severe criticism is being showered on Taiwan in the Chinese social media.
Since the last few weeks, the Chinese leadership is issuing military threats to Taiwan. Around a month ago, Chinese President, Xi Jinping had objected to the increasing military cooperation between the United States and Taiwan. Jinping had also issued a threat that if Taiwan does not merge with China accepting the One China Policy, by the end of this year, the Chinese military is ready to swallow Taiwan.
Following this, China tried to pressurise Taiwan by launching a ballistic missile in the Taiwanese Gulf. But Taiwan has consistently warned that it will not bow in front of these Chinese pressures.