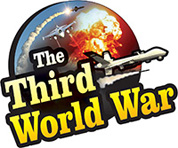 Washington: 'United States does not want confrontation with any other country's navy in the Mediterranean Sea. But the US navy is in readiness to protect our interests in Syria,' warned a senior US navy official. A few days ago, the Russian navy chased a United States aircraft carrier in the Syrian marine region. Against this background, this seems to be a warning issued by the United States to Russia.
The aircraft carrier, USS Truman of the United States is stationed in the Mediterranean Sea. Other than this, there are five destroyers and one submarine deployed in this region. Chief of the Europe and Africa command of the US Navy, Admiral James Foggo III , clarified that this deployment is not against any country.
Admiral Foggo informed that this US Navy deployment in the Mediterranean Sea is to protect the US interests in this region, and for the international marine safety. Admiral Foggo, while talking to a Russian news agency, informed that the United States and its allies have deployed their warships in the Mediterranean Sea region to prevent sparking of any war in that region. Although the US navy official did not directly mention Russia, this is considered to be a warning to Russia, who is increasing its presence in the region with additional deployment of destroyers.
Two weeks ago, US President, Donald Trump had despatched the aircraft carrier, USS Truman to the Mediterranean region for a special action in Syria. The US Navy had stated that this aircraft carrier equipped with 90 fighter jets and helicopters will play an important role in the Syrian campaign. The US navy had published information that the fighter jets aboard the USS Truman had already conducted sorties in the Syrian airspace. But the Russian destroyers' chasing the US warship and subsequently publishing a video about this, had created a sensation.
Over the last few weeks, there had been reports of clashes between the armies of the United States and Russia, deployed in Syria. The United States had accused Syria of attacking its soldiers in the 'Deir ez-Zor ' area. On the other hand, there were reports of crashes of a fighter jet and a helicopter from the Russian air base in Syria.
Although Russia had stated that a 'technical Snag' was responsible for both the crashes, the entry of the United States' aircraft carrier in the region and the subsequent crash of the Russian fighter jet and a helicopter, tend to indicate something else. Moreover, the chasing by the Russian destroyers of the US aircraft carrier has added to the tension between Russia and the US in Syria. This warning from a senior US navy official, further intensifies the tension.