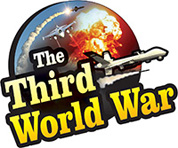 Washington: The aircraft carrier 'USS Harry Truman' of the United States has left from northern Europe for the Mediterranean Sea. The voyage of this aircraft carrier towards Syria, following President Trump's threat to attack Syria, are clear indications of the aggressive United States strategy. There are seven destroyers with the USS Truman and a German destroyer also has joined the fleet.
The United States had fired more than 60 Tomahawk missiles at the Shayrat base in Syria after the incidents of chemical attacks that took place here in the last year. These missiles were launched from a single United States destroyer. The destroyers sailing with the USS Truman are equipped with the same Tomahawk missiles. Therefore, it looks like the United States will once again carry out a heavy missile attack on Syria.
Russia has deployed the S-400 air defence system at the Latakia military base in Syria. This air defence system provides protection to the military base and the advanced systems aboard the USS Truman can play an important role in blowing this cover. This is claimed to be the main purpose of sending this warship in the region. Lieutenant Chloe Morgan, the representative of the United States navy, downplayed the deployment of USS Truman in the Mediterranean saying, it is a routine affair. But he refused to divulge information about the day the warship would reach the Mediterranean or the duration for which it would remain stationed there.