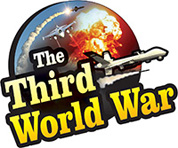 Beirut/ Washington: Russian airstrikes on Syria's Idlib province on Friday have killed two people. This being Russia's second airstrike in the last four days, the Syrian Observatory for Human Rights says that Russian fighter jets had been targeting rebel-held areas in Syria. Meanwhile, a concern is expressed that the conflict in Idlib, if triggered, could push 70,000 lives in danger.
Russia alleges drone attacks from Idlib on its Khmeimim airbase situated in Syria. Two days ago, pinning the same allegations, Russia had attacked Idlib. Moreover, on Friday, the Russian Defence ministry too cited the same reason before mounting attacks on Idlib. According to the information given by Syrian Observatory for Human Rights, attacks were launched on militant positions of 'Hayat Tahrir al-Sham' in the areas of 'Hobait' in Idlib wherein one of its militant and a shepherd were killed. Besides, 18 others in the area of Hobait have been wounded.
Following the attack, concern is being expressed that a dreadful conflict can be sparked in the north western Idlib region of Syria. Russia and Assad regime alleges Idlib, close to Turkey, of being an IS militant hideout. Over the last year, the Assad regime had implemented ceasefire in many parts of Syria. Russia and Syria claim that it is after this ceasefire that the militants formed hideouts in Idlib.
Russia and Syria also say that along with the militants, the rebels opposing Assad regime are too hiding here. Calling these militants dangerous to Syria, Russia had declared to attack Idlib with the deployment of 25 warships and submarines in the Mediterranean sea.
The United States and the European nations, however, have refuted the allegation levelled by Syria and Russia. On the contrary, the United States warned that Assad regime is preparing to launch another chemical attack in Idlib. Senior US officials have also claimed of having strong evidence that proves the same. Russia and Syria are attacking Idlib to cover up the chemical attacks, allege the Western allies.
Meanwhile, the US officials claimed that Russia carrying air raids in Idlib can target US troops at Al Tanf military base situated in south-eastern Syria. The said information has been broadcasted by the leading news channels in the United States.