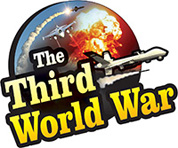 Washington: Objecting to the incursion of the Chinese fighter jets into the Taiwanese airspace made two days ago; the United States has issued a warning to China. The US State Department warned that China should not make a mistake to threaten Taiwan with military might and to change the geography of the region. The United States gave a piece of sharp advice that China should instead enter into political discussions, with the elected government in Taiwan, to find a solution.
Four days ago, two of the J-11 fighter jets, belonging to the People's Liberation Army (PLA), intruded into the southern airspace of Taiwan. It was the second incursion by the Chinese fighter jets into the Taiwanese airspace. Despite a warning issued by the Taiwanese defence department, the jets did not retreat, and therefore, Taiwan had to send its fighter jets to expel these planes from its airspace. Expressing anger over the intrusion by the Chinese aircraft, Taiwanese President Tsai Ing-Wen reminded China of a historic agreement.
"There is an agreement between Taiwan and China over the Taiwanese Strait. The Chinese aircraft incited Taiwan by violating the agreement" said President Ing-Wen slamming China and holding it solely responsible for the subsequent tension. Taiwan had informed its allies about this Chinese intrusion. Further, the US State department showered heavy criticism on the Chinese invasion.
US State Department spokesman, Robert Paladino said, "The United States opposes unilateral actions by any party that are aimed at altering the status quo, including anything related to force or coercion." At the same time, Paladino suggested that China should stop its coercive efforts and resume dialogue with the Taiwan elected administration.
Nevertheless, China claims Taiwan to be its part. China has warned that no other country should build any political of military relations with Taiwan. China has politically boycotted the countries maintaining ties with Taiwan. Amidst the United States has increased the intensity of its cooperation and has accepted to supply an advanced version of F-16 fighter jets to Taiwan. Against this background, China has been warning Taiwan time and again.