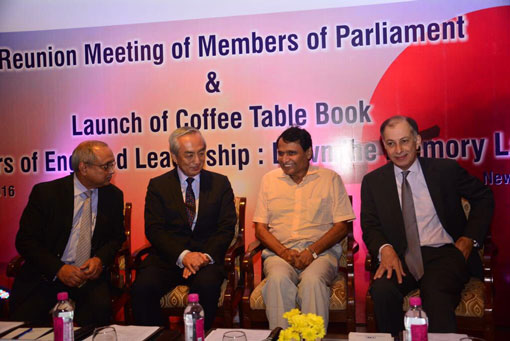 New Delhi : Japan's decision to invest USD 25 billion in India will take Indo-Japanese ties to new heights said the Railway Minister Suresh Prabhu expressing his trust. He added further that India's development projects would benefit immensely from this investment on Japan's part. The bilateral relations between India and Japan have consistently been improving over the past few years and both countries have, over the last 12 years, held talks to bolster relations. Speaking on the occasion of the release of a "Coffee Table Book" enabling the revisiting of the memories of these talks, the Railway Minister Suresh Prabhu informed about Japan's investment of a staggering $25 billion in India.
Talks to improve relations between India and Japan began in 2004. Twelve parliamentary delegations have visited Japan ever since and endeavours to boost the relations between the two nations have been made from time to time. Although the relationship has had its ups and downs, the recent past has seen the bilateral ties consistently improve and the coming times will see them surge to new heights, Suresh Prabhu said. The improvement in the ties between the nations has manifested in the form of co-operation in the economic, political and cultural fields The Minister also mentioned that following Prime Minister Mr. Narendra Modi's visit to Japan steps towards bolstering these ties have speeded up.
Japan's investment of $25 billion in India is indeed a symbol of the growing relations between the two countries. Japan's investments will help India fulfill its dream of the first ever bullet train. Besides, Japan has also shown interest in investing in the manufacturing sector.
The Indo-Japanese relationship was expanding with every passing year and our relationship would surely attain new heights said Kenji Hiramatsu, Ambassador of Japan to India. With regard to economic cooperation, he said that many Japanese companies were working in India. He also informed that over the past few days, Japan's business investment was also mounting in India.