Budapest: The Hungarian Prime Minister Viktor Orban has made a provocative allegation that the influx of refugees migrating massively in the European countries is similar to an attack and it is conspired by world's powerful 'Dark Side', He also claimed that the 'Dark Side' is without any definite structure, however, its network is far-stretched globally. Prime Minister Orban with reference to the "Dark Side" stated that it is related to the villainous side of the "Star Wars" series of Hollywood.
After World War ll, there was a strong rebellion against the Hungarian rule of the Russian Union State in 1956. In a commemoration organized in the memory of the uprising, Prime Minister Orban presented his standpoint on influx of refugees.
A strong economic empire has organized a hostile invasion of the immigrants and held the European Union and its leading member nations as hostages. This mysterious economic empire is the cause for the influx of millions of refugees flooding into Europe. The Hungarian Prime Minister has alleged that the basic idea is to transform Europe into a continent of mixed civilization.
Orban also claimed that along with Hungary, selected Eastern and Central European countries have been confronting these attacks. 'We have attained success in standing firmly against this. Currently, the Central and Eastern Europe are the only parts free from the refugees. Prime Minister Orban has warned, 'If countries like Poland, Czech and Slovakia, take steps together with Hungary, then the inflow of the refugees can be stopped.''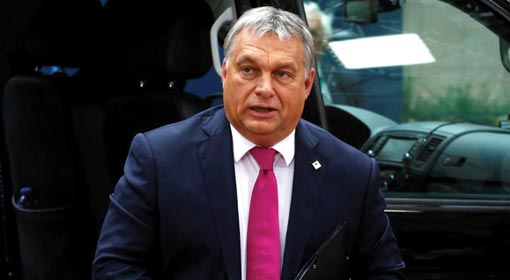 The Hungarian Prime minister also alleged, 'The main objective behind the disintegration of the refugees in Europe is to dislodge the identity of this section. 'Orban advised that, "Europe should retrieve its past glory before amalgamating the cultures and at the same time be safe and free with the values of Christianity. "He warned that if a 'Hungarian Hungary' and a 'European Europe' is desired, then raising voice against the refugees is not enough, you have to struggle."
In the past few months, the Hungarian Prime minister has consistently taken an aggressive stand on the issues of the immigrants and accused billionaire business magnate and investor George Soros of supporting this. Few months ago, Orban had openly started a campaign against Soros. Owing to this campaign Orban received rebukes from Europe and US.
However, Orban is persistent on his policy of targeting Soros indirectly, without uttering his name. At the same time, Orban's government has also criticized the European Union's policy. The speech rendered by PM Orban in capital city Budapest is expected to be the upcoming part of the series.