Beijing : The Japanese fighter planes chased the Chinese aircraft carrier warship which was passing through Japan's Miyako and Okinawa islands. The Defence Ministry of China made a comment against Japan about this event, which occurred a few days back. Yang Yujun , spokesperson for the Chinese Defense Ministry made a remark that the Japanese warplanes chased the Chinese beauty after falling in love with her.
The Chinese aircraft carrier warship 'Liaoning' entered the 'South China Sea' for military exercise. The warship carries a fleet of five destroyers. This aircraft carrier warship had entered the International waters for military exercise for the first time exhibiting in a way the Chinese war prowess. Before entering the 'South China Sea' the Chinese warship had traveled through the oceanic waters of Japan.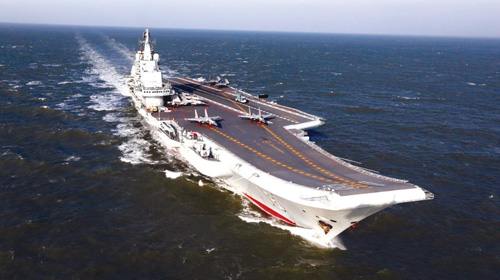 Japan had made an adverse comment about 'Liaoning' passing through the Japanese territory of Miyako and Okinawa islands. Dismissing Japanese criticism, China however stated, that it was a normal military exercise. To keep a watch on the Chinese warship, Japan deployed patrolling boats and 'P3C', which is a long distance surveillance air plane. As a defensive measure, Japan had also dispatched helicopters and fighter planes.
This deployment of planes by Japan invited sarcastic comments from China's Defense Ministry, that the Chinese aircraft carrier is dashing and gorgeous. If people wish to have a look at her, they may do so from a distance or peep at her stealthily. As far as limits are maintained, no action would be taken.
After its military practice in the 'South China Sea', the Chinese aircraft carrier would be heading towards the Indian Ocean. Thus China seems to be preparing to display its naval prowess in the Indian Ocean.