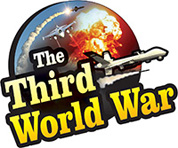 Islamabad: 'If I am given an atom bomb, I will wipe Holland off the face of the earth,' declared an extremist from Pakistan, Khadim Hussain Rizvi. A competition to draw cartoons of the prophet is being held in Holland. To stop this competition, Moulana Rizvi has directly asked for an atomic bomb to destroy Holland completely. Khadim Hussain Rizvi is the rising new extremist leader in Pakistan and the demonstrations organised by him, crippled the cities of Rawalpindi and the Pakistani capital of Islamabad.
The general elections are to be held in Pakistan on the 25th of July and Khadim Hussain Rizvi has fielded 152 candidates in the elections. After announcing that no other party has as much strength as his party, Khadim Hussain Rizvi has released a series of inflammatory statements. Anybody who believes in religion should vote for us, Rizvi tells the electorate. At the same time, he claims that only his party has the courage to tackle the United States, Israel and Pakistan's foremost enemy India. He has alleged that the other political parties are nothing but foreign agents.
'The powerful Pakistani military is also at my feet and only the senior military officials can meet me. They also tremble with fear in front of me,' said Rizvi at a press conference. This extremist leader once again attracted the media's attention by making vitriolic statements about Holland. The right-wing leader in Holland, Geert Wilders had announced for a competition to draw cartoons of the prophet. There was opposition for this idea from around the world. However, Rizvi expressed his desire to annihilate the entire country of Holland using an atomic bomb, even before any such competition was held. He said he needed an atomic bomb which he would use only for this purpose.
While claiming that he has tremendous influence on the Pakistani military, Rizvi has also reminded all that Pakistan is a nuclear-equipped country. Therefore, the claims of this extremist leader cannot be ignored. The whole world has been expressing concerns over the Pakistani nuclear weapons being unsafe which could land in the hands of terrorists. In such a scenario, the threat issued by Rizvi not only increases the concerns of Pakistan but also the world.