Ankara: After Saudi Arabia, United Arab Emirates, Egypt, Bahrain and Libya isolated Qatar, the tensions that it gave rise to have not yet deflated but are in a state where they may escalate further. Turkey, who backed Qatar and criticized Saudi Arabia and its allied nations, is in the process of deploying troops in Qatar. While neighboring nations have threatened to blockade Qatar, Turkey has agreed to supply Qatar with food and other essential commodities.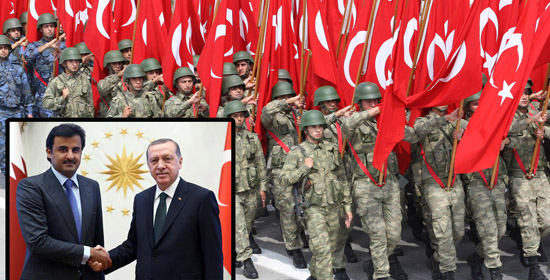 Turkish President Recep Tayyip Erdogan denounced the isolation of Qatar by Saudi Arabia and its allied Arab countries. President Erdogan clearly stated that even though Saudi and other Arab countries had severed ties with Qatar, Turkey will not withdraw from its relations with Qatar. Turkish President Erdogan had reminded everyone that during its difficult times, Qatar and other allied countries came to Turkey's aid. Hence, Turkey would always maintain friendly ties with Qatar, appealed President Erdogan.
Within hours of the Turkish President's declaration, information that Turkey had already begun the process of deploying military forces in Qatar, surfaced. Kamal Alam, senior minister of President Erdogan's 'AKP' party stated that the Erdogan government had started the process of deploying military troops in Qatar. Alam informed that a law to be passed concerning the deployment of troops in Qatar, was being fast tracked in the Turkish parliament.
Alam said that currently, Turkey would not deploy troops in Qatar. However, if Saudi and the coalition of Arab countries maintain their stance against Qatar and if the US withdraws its military troops from Qatar, then Turkey may have to deploy its troops to safeguard Qatar, informed Alam. The US military forces and fighter planes are currently deployed at Qatar's 'Udeid' base. The US was making use of this air base at Qatar while taking action against the 'IS' in Iraq and Syria. Therefore, US President Donald Trump has expressed his concerns over the current situation in the gulf that arose after the isolation of Qatar since the past few days. Even so, it is claimed that the US may have to withdraw their military forces from the base in Qatar.
In the year 2014, a military agreement had been signed between Turkey and Qatar. In accordance to this agreement, Turkey had made its military base in Qatar operational. Turkey had deployed approximately 150 soldiers at this military base. In year 2015, the Turkish ambassador to Qatar, 'Ahmet Demirok' had declared the deployment of three thousand Turkish soldiers at this military base in the near future. Meanwhile, due to this, the likelihood of tensions further escalating in the Middle Eastern countries is being expressed.