Washington: 3rd November 2017, The Bitcoin exceeded the mark of seven thousand dollars on Thursday last. The CME Group in the USA with the largest 'Options and Futures Exchange' had already hinted that the 'Bitcoin Futures' trade would take off by the end of the year. This announcement caused the Bitcoin to soar more than 7 percent in just one day, leading it in turn, to smash through 7000 dollars. This all-time high, a record leap, has earned the Bitcoin a worth of 100 billion dollars at the international level. Also, over a period of one year, the rate of the Bitcoin too has spiked to the extent of a whopping 640 percent.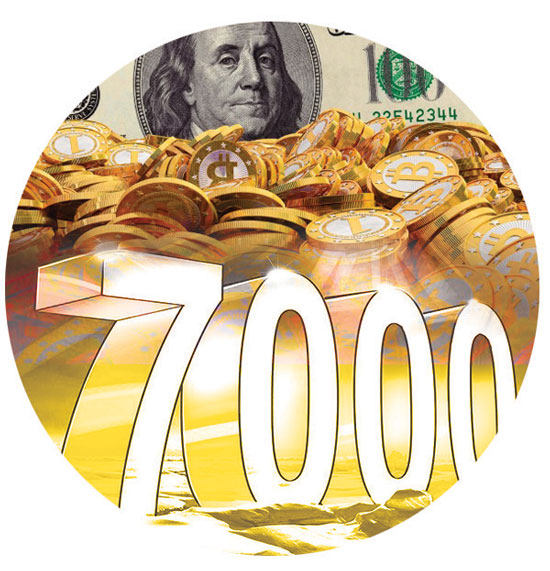 The website, 'Coindesk', reported that on Friday morning at about 7 American standard time, the value of the Bitcoin had reached a never before value of 7,454 dollars. The rate of the Bitcoin is reported to have risen more than 10 percent in a mere two days' period. Last month, before the ruling communist party in China met, talks about lifting the ban on cryptocurrency had begun. It was based on these talks that the Bitcoin rate reached the 5,856 dollar mark, an event after which it has consistently headed upwards and in leaps and bounds.
The surge of the Bitcoin on Thursday and thereafter has been traced to the announcement regarding the Bitcoin that the CME Group, a front runner in the American financial market, made. On Wednesday 1st November, the CME Group with the largest 'Options and Futures Exchange' announced that the 'Bitcoin Futures' trading would take off by the end of 2017. That the CME Group, a leading company in the American financial market, should enter into Bitcoin trade, has proved to be an eye catcher event indeed.
The CME Group has been operating large derivatives and future exchanges based on interest rates, equity indexes, foreign exchange, energy, agricultural products, rare & precious metals, weather and real estate. It also owns the 'Dow Jones stock and financial indexes', considered to be one of the leading American stock market indices. The company is known to have clarified that the growing demand on the part of the clientele was the reason behind launching the Bitcoin trade.
It is alleged that following the announcement made by the CME Group, the Bitcoin crossed the 7000 dollar notch and earned itself a net worth of close to 200 billion dollars. In a matter of a year, the value of the Bitcoin has recorded a surge to the extent of 640 percent and some experts even believe that given the pace at which it is swelling, the Bitcoin will could even race past 8000 dollars by the end of this year.