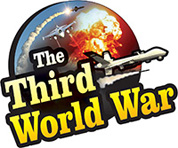 Tehran: Ali Shamkhani, the secretary of Iran's National Security Council, warned, "Iran will teach Israel a lesson if it continues to strike Syria." A few days ago, the Iranian leaders had warned that Iran would wipe out Israel from the world map.
Syrian Foreign Minister, Walid Muallem, recently visited Iran. The Syrian Foreign Minister held meetings with Iranian President Hassan Rouhani, Foreign Minister Jawad Zarif and Secretary of Iran's National Security Council, Shamkhani to discuss measures to stop the menace of Israeli attacks in Syria. At this time, Shamkhani warned Israel, of dire consequences if it continued attacking Syria.
Shamkhani announced that the Israeli attacks in Syria would not be tolerated henceforth. Shamkhani warned that if Israel does not stop these attacks, Iran will retaliate with a decisive attack.
Shamkhani claimed, "If these actions continue, we will activate some calculated measures as a deterrent and as a firm and appropriate response to teach a lesson to the criminal and lying rulers of Israel". The warning by the Secretary of Iran's National Security Council is being looked upon seriously. Last week, Shamkhani had warned Israel of an all-out war with the help of terrorist organisations, Hezbollah in Lebanon and Hamas in Gaza Strip.
Israel has not given any reactions to the Iranian warning. But Israeli Prime Minister Benjamin Netanyahu had declared that the attacks against the Iranian military movements in Syria would continue. The Iranian military locations, arms depots and Hezbollah bases in Syria will be destroyed, he added.
It is claimed that the Israeli attacks in Syria have severely jolted Iran. Information has been received that Iran has vacated the military bases near capital Damascus and moved the military equipment elsewhere. Meanwhile, a few days ago, the US officials had warned, that if attacks continue on the Iranian locations in Syria, it will spark a war in the region. The Iranian leaders are reiterating the same warning to Israel.