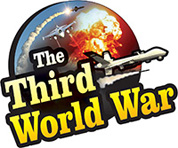 Washington: Frank Amedia has said, 'The challenges faced by German Chancellor Angela Merkel and French President Emanuel Macron, staunch supporters of globalisation, have been posed by the god's forces. Because God is opposed to globalisation.' God has taught chancellor Merkel and President Macron a lesson for criticising President Trump's policies.
Some of the analysts and economists had said that America first policy adopted by President Trump is against globalisation. But without caring for their opinion, President Trump gave the message 'Make America Great Again' during his election campaign. President Trump started implementation of this policy after assuming power. German Chancellor Merkel and French President Macron had bitterly opposed the policy.
Amedia clarified that there was a scheme of God behind the enormous challenges faced by German Chancellor Merkel and French President Macron. Saying, 'We are not nationalists but supporters of God's rule. We believe that God's rule is implemented in a country through the rulers', Amedia claimed that Trump's decisions are consistent with God's rule. At the same time, he criticised that the German and French heads of State are opposing God's country.
Meanwhile, German Chancellor Merkel's party had to face a massive defeat, a few months ago. It has been revealed that she will be resigning soon, accepting the responsibility of the defeat. Her party has declared that her policies will be reviewed. French President Macron is facing the heat of the Yellow Vest agitations, and his seat has become unstable. Referring to these, Amedia said that both the leaders are faced with challenges posed by god as God does not support globalisation.