New Delhi: Three Chinese destroyers have entered Pakistan's Ka
rachi
port. As
part of the strategic cooperation between the
two
countries, these
destructors have come to visit the Karachi
port. At the
same
time, India
has decided to deploy the warships in the gulf of
Malacas
& to give a direct
counter answer
to China's strategic movements. The Indian Navy informed that the deployment in Malacca would be
permanent. Chag
Chun, Jing
Zhou, Chao
Hu
, three naval ships of Chinese navy have entered the Karachi
port. It
is claimed by China that these destinies are gift of goodwill
. Chinese navy has claimed that this goodwill visit will be useful for improving the cooperation & coordination between the navy of China &
Pakistan

.
The Chinese navy has said that the Chinese destroyer will also do the training job.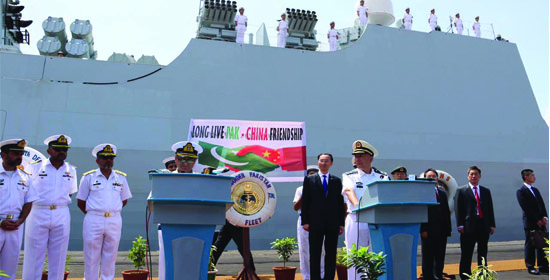 But the details of it have not been disclosed. The meeting of the Chinese destroyer & the submarine in Pakistani's barracks is now becoming a common matter. It seems that both the countries are using this kind of goodwill visit very smartly to increase pressure on India. The Chinese navy in the Indian Ocean is the matter of great concern for India. It is consistently warned by China that Indian Ocean area is not the courtyard of India's house. The China navy's submarine wreck was hampered to challenge the natural impact of India. It seems that India has taken serious note of China's activities & has started a strategy against this. While news of the Chinese destroyers visiting Karachi port was being published a few days before India decided to deploy its warships permanently in the gulf of Mallaca.
China being the world's second largest economy, most of its traders traffic has been carried in the Mallaca. India's dominance over this region has been rankled the China.
Since long time it has been warned by China's strategic analyst that if it comes to the mind of India, India can stabilize this region & can put the traders traffic in danger. Considering the fact that India may create stumbling block in the gulf of Mallaca, China has crimped its action against India. While China is increasing its intensity of anti-Indian decisions, India appears to delivered the messages properly to China by deploying warships in this area.
The deployment of Indian warship in gulf of Malacca is not a part of campaign against piracy or patrolling has been specified by Captain Gurpreet Khurana of Indian Navy. This deployment of Indian Navy is to increase awarness on world's busiest freight traffic, said by sources of Navy.