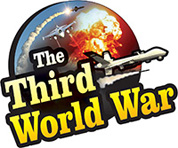 Washington: Another US warship equipped with the Tomahawk missiles has been deployed in the Mediterranean Sea. The US has targeted more than 200 missiles on Syria with this new deployment. 'Russia and Iran should not test the US by carrying out attacks on the civilians in Idlib', warned Nikki Haley, the US Ambassador to the UN.
'USS Bulkeley', the Arleigh Burke-class US destroyer was deployed on Friday in the Mediterranean Sea, claimed a Russian news agency. This destroyer, which was involved in the Libyan conflict, is loaded with 80 Tomahawk missiles and helicopters. The US had used these missiles to strike the Syrian army bases earlier. The US had taken this action in retaliation to the chemical attacks carried out by the Syrian army. Thus, it seems that the US has warned the Assad regime by deploying the Tomahawk loaded warship in the Mediterranean Sea.
The US warships, 'USS Ross' and 'USS Porter', equipped with the Tomahawk missiles have already been deployed in this sea region. Moreover, the US submarine, 'USS Newport News' had been deployed in the Mediterranean sea in the last week itself. This submarine too is loaded with Tomahawk as well as Harpoon missiles. Thus, it seems that at least 200 missiles have been targeted on Syria from the US destroyers deployed in the Mediterranean Sea. It is said that the US has deployed the Tomahawk missiles to attack the Assad regime, in case it launches a chemical attack on Idlib.
The US ambassador to the UN, Haley has also warned Russia and Iran on the same lines. Reminding of the action conducted by the US in the past, she threatened that the attack on civilians in Idlib will receive a strong retaliation. Haley strongly warned the Russia and Iran along with the Assad regime to not carry out attacks on Idlib, while speaking to a news channel. This is the third warning given by the US over the last four days.
Russia too has deployed around 30 destroyers in the Mediterranean Sea, likewise the US. Russia had claimed to have deployed these destroyers to take action on supporting groups of the US and other western nations in Syria. However, the US Defense Headquarters, Pentagon has raised questions regarding this deployment. Pentagon criticised that the deployment of the Russian destroyers is a threat to the stability and peace of Syria. Likewise Pentagon, the NATO too has expressed concern about the deployment of Russian warships in the Mediterranean Sea.
Meanwhile, as the US and Russian warships are set against each other, the USS Essex amphibious warship has been deployed in the Suez Canal. It is claimed that this warship, equipped with the 'F-35B' stealth fighter jets is said to be deployed to carry out airstrikes on Syria.