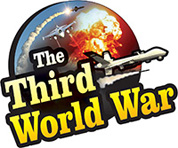 Damascus: US President, Donald Trump had declared that Iranian Revolutionary Guards as a terrorist organisation, a week ago. The implementation of President Trump's decision has started, and Iran has expressed anger over this. Iranian Foreign Minister, Jawad Zarif accused the US of starting economic terrorism against Iran, with the declaration of the Revolutionary Guards as a terrorist outfit. At the same time, Foreign Minister Zarif appealed to the European countries, to make political efforts to bail Iran out of these US sanctions.
Iranian Foreign Minister Zarif recently visited Syria and met President Bashar Al-Assad and Prime Minister Imad Khamis. During the meeting, Zarif and Assad showered heavy criticism on the US decision, to declare the Iranian Revolutionary Guards, as a terror outfit. Assad lashed out that the United States had adopted wrong policies regarding Iran and declaring Iranian Revolutionary Guards as a terror outfit, is a very irresponsible decision.
Whereas, Iranian Foreign Minister said that it was a foolish decision of the United States, to include the Revolutionary Guards in the list of terrorist organisations. As an equivalent retaliation, Iran declared the soldiers of the US Central Command, in the Gulf, as terrorists. The Iranian parliament recently passed a resolution to that effect. Zarif appealed to the European countries to increase political movements to remove the sanctions imposed by the United States, on Revolutionary Guards.
Last week, US President Donald Trump declared Revolutionary Guards as a terrorist organisation, accusing it of being responsible for the instability in the Gulf. At the same time, he announced sanctions against the military outfit. The implementation of these sanctions has been started from Tuesday, and it is apparent that the Iranian economy is already feeling the heat of the sanctions. Therefore, Foreign Minister Zarif, while criticising the US sanctions, appealed to the European countries to open a negotiation channel, to resolve the issues. At the same time, reports of the US sanctions having an impact on the oil trade-related transactions between Syria and Iran also are being received.
Meanwhile, a Gulf newspaper claimed that the Iranian oil exports have significantly declined and this is also affecting Syria, its ally in the Gulf. The newspaper claimed that there has been no crude supply, from Iran to Syria, in the last six months. Till last October, the Iranian oil was being supplied to Syria, from the Persian Gulf, passing through the Red Sea and the Suez Canal. But the US sanctions have imposed restrictions on the movement of the Iranian tankers and Syria is the worst hit because of this. Therefore, it is said that to break these shackles, Iran has stated movements, to open a channel for freight movement to Syria, through Iraq.