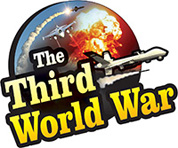 Washington/Tehran: 'If Iran seeks war against the United States, it will be the official end of Iran. Therefore, do not threaten the United States,' President Trump made a stark warning. He also announced that the United States would never allow Iran to acquire nuclear capabilities. In response, Iranian Foreign Minister Jawad Zarif retorted that these remarks made by the US could not bring about an end of Iran.
Since the last few days, the Iranian officials have been threatening to attack the US warships, in the Persian Gulf. Iran has even published photographs of the missiles deployed on its patrol vessels, in the Strait of Hormuz. It has come to the fore that Iran has used missiles in Iraq, Syria and Gaza to mount attacks on Israel, Saudi and other US allies, in the Middle East. It is against the backdrop of increasing Iranian military activities that President Trump had threatened Iran through social media.
President Trump warned that Iran should not commit a mistake of threatening the United States. At the same time, he pointed out that it will be an official end of Iran if it seeks a fight with the United States. Amid the sensation created, around the world, by these quips of the US President, a news channel broadcasted an interview with the US President. In an interview, President Trump clarified that the meeting that the United States will never allow Iran to be equipped with nuclear weapons.
Trump clarified in the interview, saying, "We don't want a conflict with Iran. But if Iran creates such a situation, the United States will have to take steps to stop Iran from acquiring nuclear weapons."
A war with the United States will severely rock the Iranian economy. President Trump reminded that most importantly, Iran will suffer significant loss of lives, in this war. David Petraeus, the former chief of the leading US intelligence agency CIA, also lambasted Iran. Petraeus said that Iran should carefully select the options. A wrong decision can set the Middle East on fire.'
Meanwhile, Iranian Foreign Minister Jawad Zarif has replied to the warning given by Trump. Zarif retorted saying, "Iran is standing strong against the economic terrorism, by the United States, for the last so many years. Therefore, any number of taunts by President Trump will not finish Iran. Don't threaten Iran; instead respect it."