New Delhi: As a challenge to China's ambitious 'One Belt One Road' (OBOR) project, India has decided to speed up 'South Asian Sub-Regional Economic Cooperation' (SASEC). The Cabinet has approved the sanction of 1630 crore rupees for the construction of the highway from Imphal to Moreh at the border of Myanmar. SASEC is an important project of constructing an array of highways joining leading South- east Asian and neighboring countries. This decision proves to becrucial in the background of the 8 day visit of the Myanmar Military General Yu Min Aung Hlaing.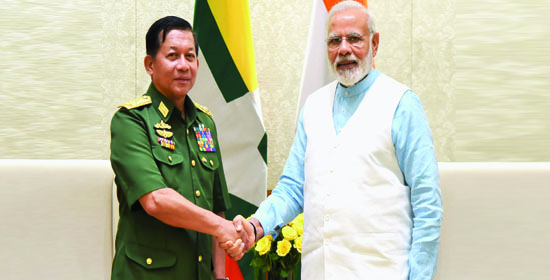 The Military General of Myanmar Yu Min Aung Hlaing met Prime Minister Narendra Modi on Friday. On the occasion, Prime Minister Narendra Modi underlined the importance of the bilateral relations with Myanmar as a strong pillar of the 'Act East' policy of India. The Prime Minister also stressed that the bilateral relations with Myanmar will be strengthened more at all the levels.
In the following two days, the Myanmar Military General met with the senior level Military officials of India. The Military General of Myanmar and his high-level associates also visited the Naval base at Vishakhapatnam. General Aung Hlaing also met the Indian Defense Minister Arun Jaitley and National Security Advisor Ajit Doval.
Prior to this, the Cabinet gave approval of 1630 crore rupees for constructing the 65 km long highway between Imphal and Moreh. This highway project is part of the South Asian Sub-Regional Economic Co-operation (SASEC). SASEC was established to improve the 'connectivity' between India, Bangladesh, Bhutan, Maldives, Myanmar, Nepal and Sri Lanka. Highways are being constructed between Bangladesh–Bhutan–Nepal and India (BBIN). There are also plans to construct highways connecting India–Myanmar–Thailand. Both these projects are a part of the SASEC project. However, these projects were running at an extremely slow pace.
China, however, is undertaking multiple projects in Central and South Asia under the head of OBOR. India has categorically refused any involvement in OBOR. The CPEC project of China runs through Pak-occupied Kashmir and India is opposing it on the grounds of sovereignty. This was the reason India did not participate in the OBOR meet in the month of May. China, at that time had accused India of opposing the 'connectivity'.
However, by speeding up the projects under SASEC, India has clarified that it is not against the connectivity of the countries. The highway which now plans to reach up to Moreh near the border of Myanmar, will further be extended to Thailand. The construction of the highway has already begun in Myanmar and Thailand. It is also being said that India plans to expand the highway project to include Malaysia and Singapore as well. These roadway projects shall be an important step in the 'Act East' policy of India.